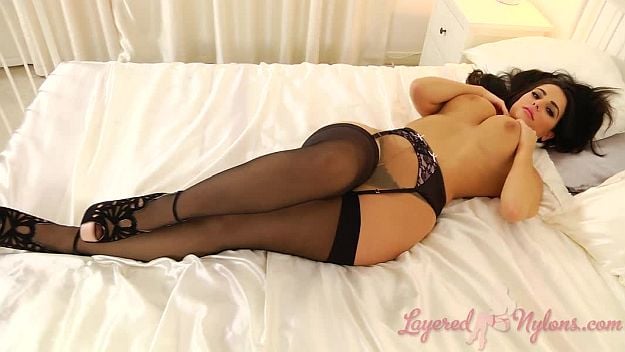 Charley posed in an red dress that clung to her curves, a wide belt pulled in tight around her waist helping to emphasize her amazingly broad hips and hefty bosom.
Standing close-up, she lifted the dress and revealed a black lace pantie thong under beige sheer nylon pantyhose, and black suspender belt and suspenders attached to the tops of her stockings.
Charley turned, bending slightly to push out her fabulous round ass and caressed her buttocks through the tight layer of sheer nylon hose. She ran her thumbs along and under the taut suspender straps and made them snap back into place against her shapely, nylon clad thighs.
Charley removed the belt and stripped off the red dress, revealing a black bra and the tight suspender-belt that clung to her narrow waist and stretched over her broad hips. Kneeling on the bed, she stripped off the bra and lay on her back, caressing her lingerie clad body and fondling the soft flesh of her voluptuous all natural breasts.