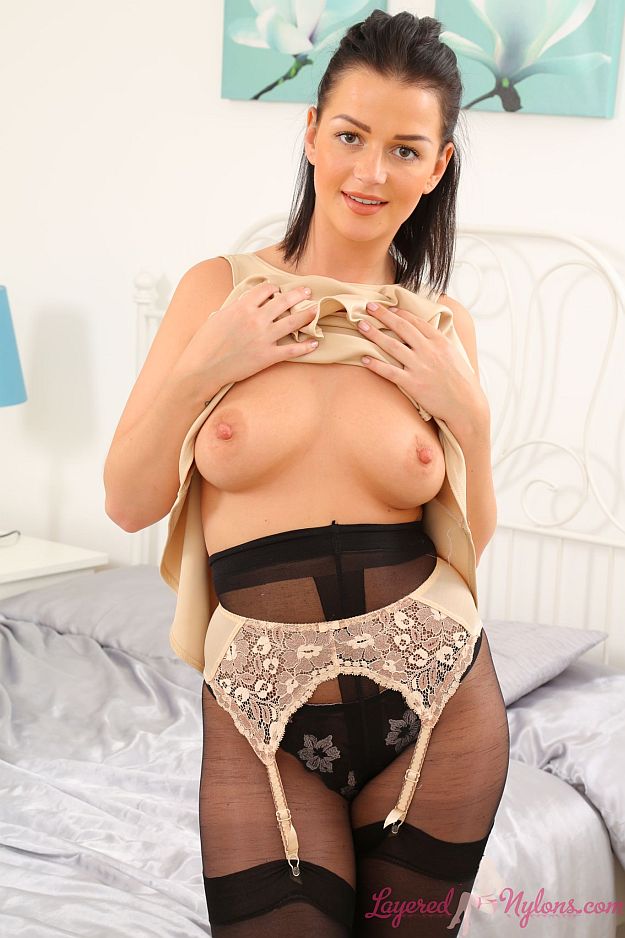 Erica reclined on the bed, her short peach coloured dress pulled above her thighs to reveal suspenders and seamed nylon stockings layered over sheer pantyhose. She slipped one hand between the layers of nylon and spread her fingers spread over her thigh, making the suspenders strain against the tops of her black stockings.
Erica stood and pulled up the front of her dress to reveal her naked all natural breasts. The light-beige, lace suspender-belt, framing the black panties under her sheer nylon pantyhose. She held the dress up and brought her forearms together around the sides of her tits and pressed, pushing them outward so the thick, round nipples stood erect.
Erica sat on the bed and crossed one leg over the other as she slipped off her heels and let them dangle from her toes. Then she lay back, lifted her legs up and crossed them at the ankles to give a view of her feet in their double layers of black nylon.
Erica knelt on all fours on the bed and presented the rounded cheeks of ass sheathed in black hose. The lacy suspender-belt stretched over her broad hips and buttocks, and the taut suspender straps pulled on the tops of her seamed nylon stockings.