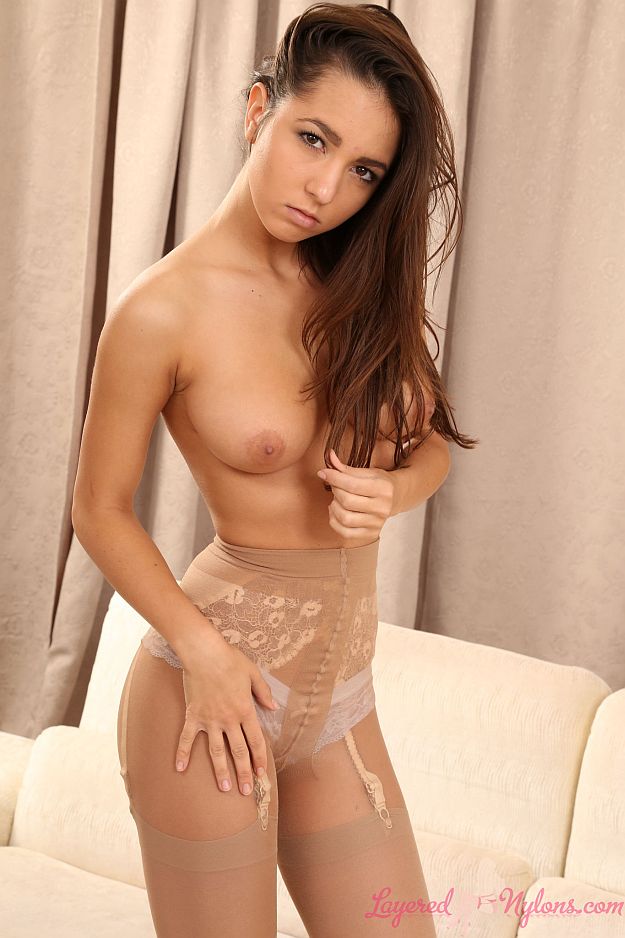 Pretty babe Kitti looked cool and sultry as she posed in her summer outfit – light purple top and sequinned beige skirt – her legs in complementary beige pantyhose and open-toed heels.
Kitti ran her hands through her long brunette hair, her eyes sparkling as she looked into our lens and turned her head to the side. She slowly lifted her skirt and revealed cream coloured suspenders and beige stockings under a layer of sheer nylon pantyhose.
Kitti unzipped the skirt and let it slowly fall down her stockinged legs, then sat on the the sofa to strip it over her heels. She reclined on her back and stretched out her legs to show her delicate lace panties under the crotch of her sheer nylon tights.
Kitti stripped off her top and uncovered her beautiful breasts, so soft and natural as they hung from her chest. She removed her heels then got up to stand in her stockinged feet while posing topless in her lacy panties, suspender-belt and layers of beige-tan nylon hosiery.