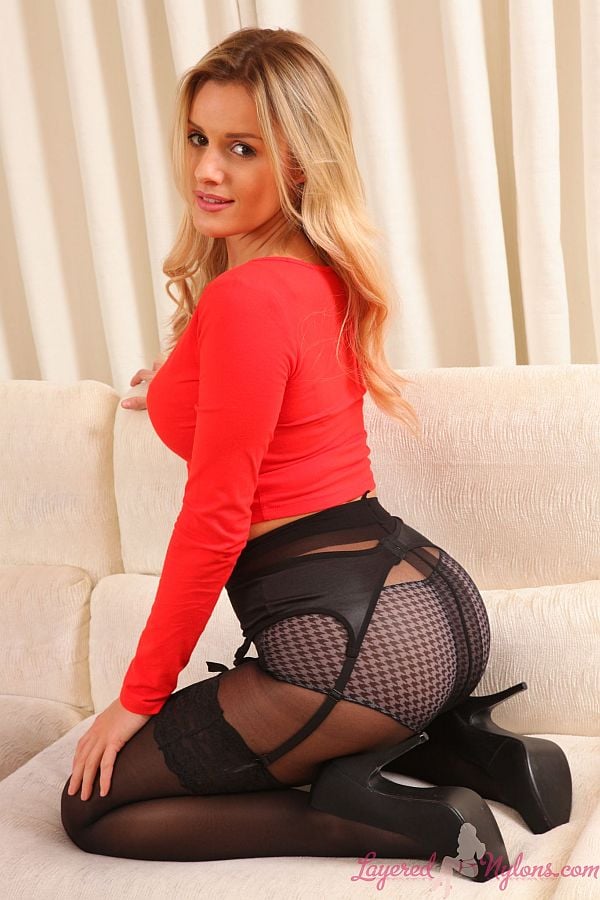 Amy is a sexy blonde babe and wears some very attractive lingerie and layers of black nylon on her shapely legs in this photo shoot.
Amy began by lifting up her short skirt, revealing her suspenders attached to the lace tops of her black stockings, which were layered over sheer nylon pantyhose.
Unzipping her skirt, she pushed it over her ass and let it slide all the way down her slender legs, to reveal a black suspender-belt around her hips and a pair dogs-tooth patterned panties, under the layer of her sheer nylon pantyhose.
Amy stripped off her red top and uncovered a matching bra, then slipping the straps over her shoulders, she pulled the cups away from her chest to reveal the soft mounds of her all natural breasts.
Slipping off her heels, she reclined on the sofa, lifting up her legs and crossing them at the ankles she pointed her toes and gave a close up view of her stockinged feet.
Kneeling, she tilted up her ass which looked so exciting in her patterned panties and hose, her suspenders stretching around her bum and pulling taut of the tops of her lacy stockings.