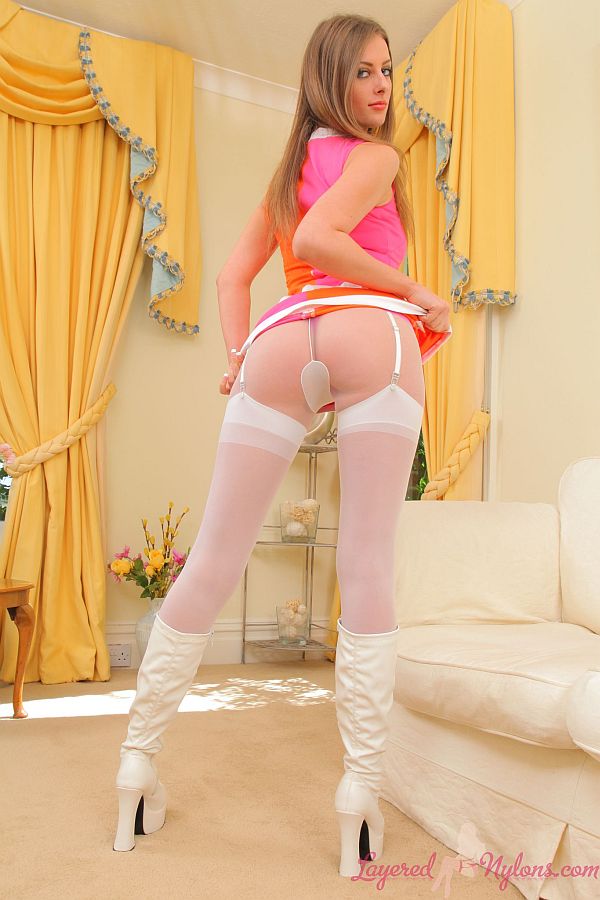 In the 60's the girls wore their dresses short and because of this stockings went out of fashion, but our luscious blonde was not shy of letting us see the tops of her white stockings.
Danielle stood above us in her platform boots and looking over her shoulder she lifted up the back of her dress. Her bum looked fabulous encased in white, sheer nylon pantyhose, which was layered over her white suspenders and stockings.
Unzipping the back of the dress, she let it fall over her slender frame, revealing a pink lacy bra, plus matching panties and white suspender belt that showed through the layer of her sheer nylon hose.
Danielle stripped off her bra and uncovered her all natural breasts and their pink puffy nipples which looked like small raspberries. Then sitting on the sofa with her legs crossed, she pulled the zips down the side of her platform boots and slipped them off her feet.
Danielle knelt on the floor and tilted up her ass to give a view of her buttocks sheathed in clingy pantyhose, the white, opaque oval of the gusset spread over the crotch of her panties.
Laying down and stretching out on the floor, she posed topless, giving a view of her ass in pink panties and her long slender legs in their layers of white nylon hosiery.