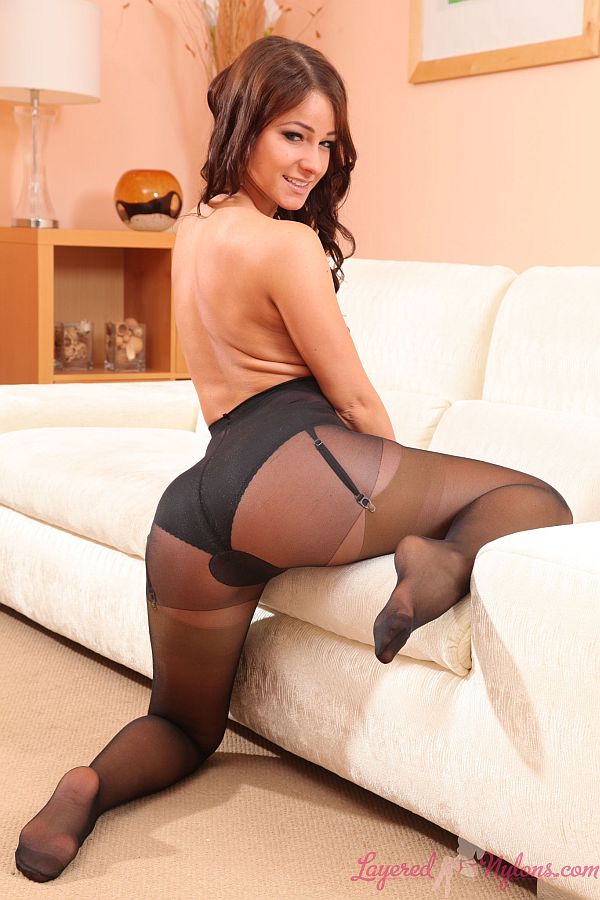 Kristina is wowing all the guys in our members area with this stunning photo set of her teasing in black sheer pantyhose, layered over suspenders and tan nylon stockings.
Kristina's see-through polka dot top gave a tantalizing glimpse of her black bra underneath, as she stood and posed for us in her short skirt and leather heels.
Lifting up her skirt revealed she was wearing black panties and suspenders attached to the tops of her tan stockings, all under the layer of her black sheer pantyhose.
Kristina stripped off her skirt, leaning forward slightly as she let the garment slide down her shapely legs, to give a view of her fabulous bum, sheathed in nylon and the black gusset stretched under her crotch and between her thighs.
Removing her top, she hooked her thumbs under the straps of her bra and slipped them down her arms, and stripped it away to uncover her gorgeous, all natural breasts.
Kristina slipped off her heels and laying back on the sofa, she rolled down her pantyhose and took them off over her stockinged feet. She then pulled down her panties so they were stretched around her ankles before removing them completely.
Sitting on the sofa, she  seductively pulled her pantyhose and stretched the nylon upward, until it fully encased her buttocks once more. She then positioned herself to give us a view of her bum and the black patch of the pantyhose gusset, as she posed in her layers of sexy nylon hosiery.