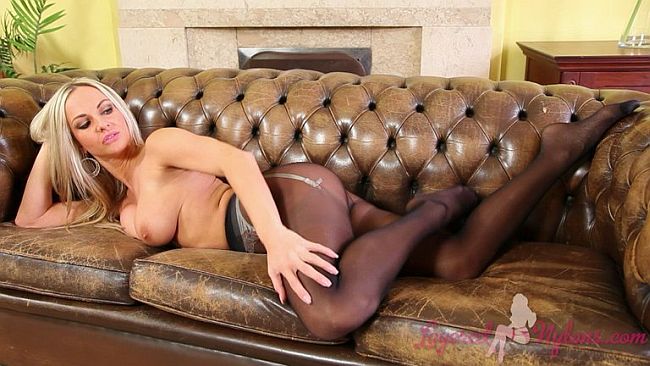 Tammy lifted her flared chiffon dress and it made a very sexy, swishing sound as it rubbed against her thighs and the surface of her black nylon pantyhose.
Kneeling, she pulled up the dress to give a view of her peachy ass, her buttocks looking so erotic sheathed in sheer nylon and layered over her suspenders and stockings.
She ran hands over the curve of her bum cheeks and gave her ass a sexy wiggle, causing her long white suspenders to stretch and pull on the tops of her tan nylons.
Tammy untied the back of her halter neck dress and pulled in down, uncovering the fullness of her large breasts, which she squeezed in her hands and kneaded between her fingers.
Slipping off her sliver glitter heels, she lifted up her legs and pointed her toes as she rubbed her feet together and offered a view of the soles in their layers of nylon.
Tammy stripped off her dress to reveal she was sans panties, snaking her hips as she slipped her hands down the front of her sheer nylon pantyhose.
Tammy lay on the couch and moved her hand over her curves, enjoying the erotic sensation of her nylon layers clinging to the flesh of her shapely ass and legs.