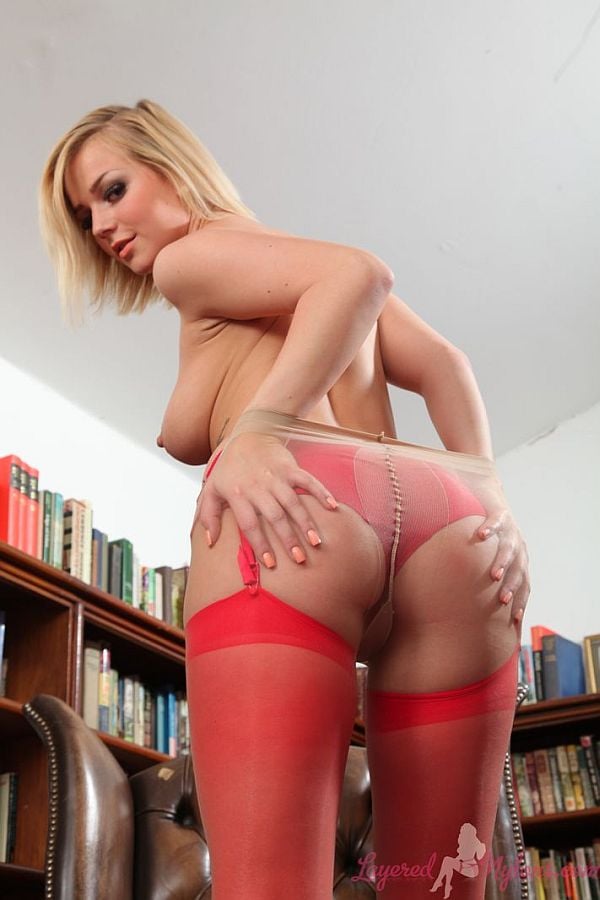 Victoria A looked out from under long dark eyelashes which enhanced the beauty of her dark brown eyes, her long blonde hair framing her pretty face as it swept down and curled around the nape of her slender neck.
She was wearing a red dress tied around the middle with a leather and gold chain belt as she sat in the library chair, her legs slightly parted so as to give a view of the beige coloured patch of her pantyhose gusset covering a pair of red panties which were teasingly visible.
Victoria stood and lifted the dress a little higher to show that her sheer to waist pantyhose were layered over not just her panties, but a matching red suspender belt that was attached to the tops of red nylon stockings.
She unbuckled then belt and pulled the dress over her head, revealing a red bra underneath which pushed and uplifted her ample breasts together. Then undoing the bra and slipping the straps over her shoulder and arms, she uncovered the soft mounds of her boobs with their rather thick pink nipples which stood out prominently.
Victoria sat in the easy chair and slipped off her shoes, then she lifted her legs and dangled her heels from her toes before removing them to display her pretty feet in layers of nylon.
Leaning over the desk she teased with views of her pantied ass encased in sexy, shiny nylon and her red suspenders stretching under her hose to the tops of her sexy nylon stockings.