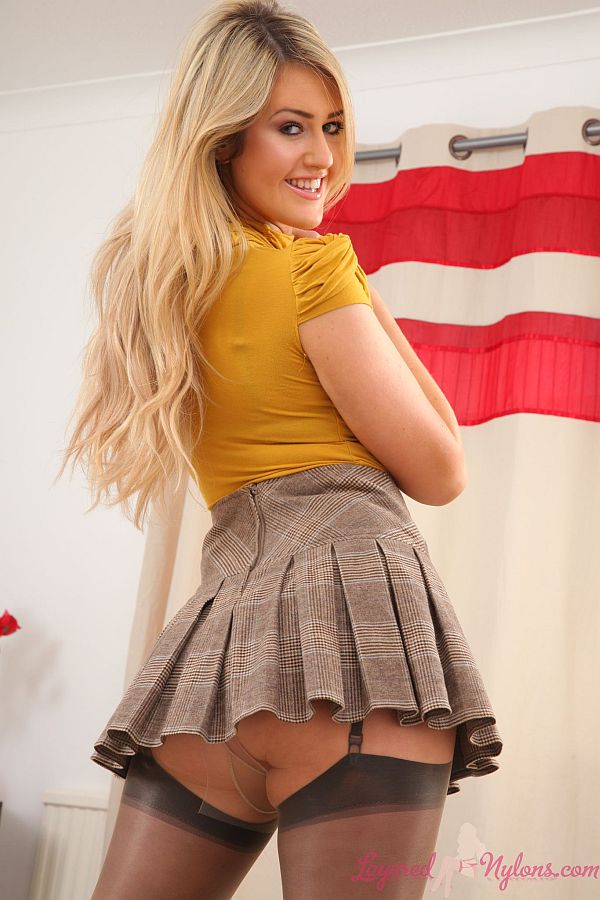 Spring is one of Lola's favorite seasons, as it means she can wear her shorts skirts and go out for a walk and flash her stockings tops at all the guys…
Lola showed us her latest thrilling outfit as she stood and posed next to the bed, her skirt so short it revealed she was wearing a layer sheer nylon pantyhose over her suspenders and stockings.
She reclined on the bed and flipped up her skirt, turning to show her fabulously rounded ass sheathed in a layer of sheer nylon hose; the black suspenders straining on the tops of her black nylon stockings.
Lola stood to unzip the back of her skirt and let it slide over her bum and down her legs to the floor. She stepped out of the skirt and teased by pulling up her top to show her ample cleavage supported by a low cut black bra.
Having stripped off her top, she reclined on the bed and stretched out her legs, using her feet to slip off her heels and let them dangle loosely from her toes. She then sat up and slipped the straps of her bra over her shoulders and stripped it away to uncover her all natural breasts.
Lola got up to stand in her stockinged feet and posed topless, her hands caressing her breasts as she posed in her lingerie and layers of nylon hosiery.