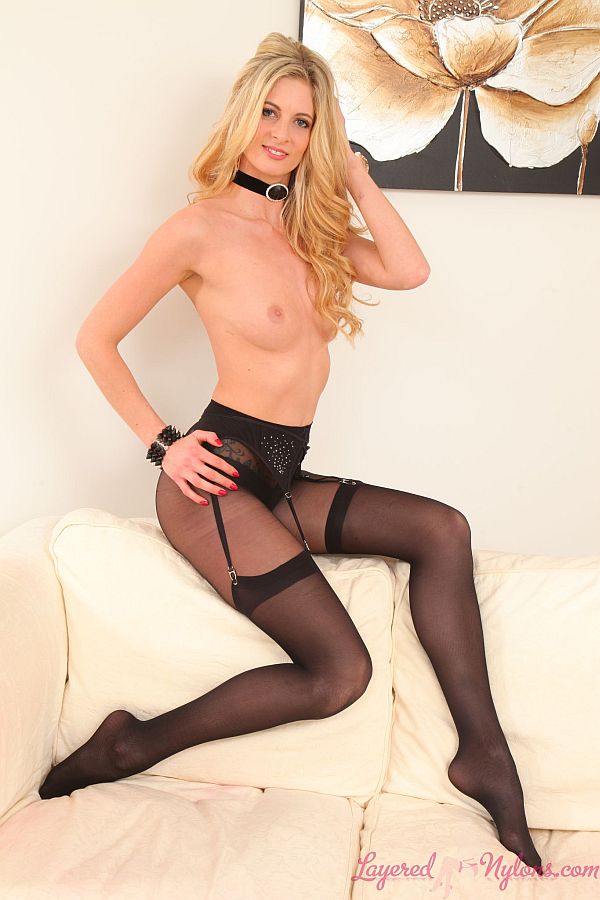 Rebecca Leah looked ready to party in her loose fitting, low plunge top and sexy gold lamé mini-skirt that gave a tantalizing glimpse of her suspenders and stockings tops.
Running her fingers through the long tresses of her golden hair, she turned to give a view of her sexy ass in that tight skirt; her long legs dressed in black hosiery and feet in ankle boots with stiletto heels.
Slowly she eased up the hem of her skirt, revealing more of the thin straps of her suspenders, layered over black nylon pantyhose, and their metal clasps attached to her stockings. She pulled the skirt even higher around her hips to show the back of her pantie thong slipping between her tight buttocks, all nicely sheathed in clingy nylon hosiery.
Rebecca stripped off her skirt, then pulled the black top over her head, her long blonde hair falling over her shoulders lightly brushing against her petite, all natural breasts. She hooked her fingers under her the stretchy material of her suspender belt and pulled on it so the suspenders strained on the tops of her stockings.
Sitting on the sofa she unzipped her ankle boots and slipped them off, then she got up and posed topless as she stood in her stockinged feet, lifting her heels off the floor so she could balanced on her toes in their layers of black nylon hosiery.