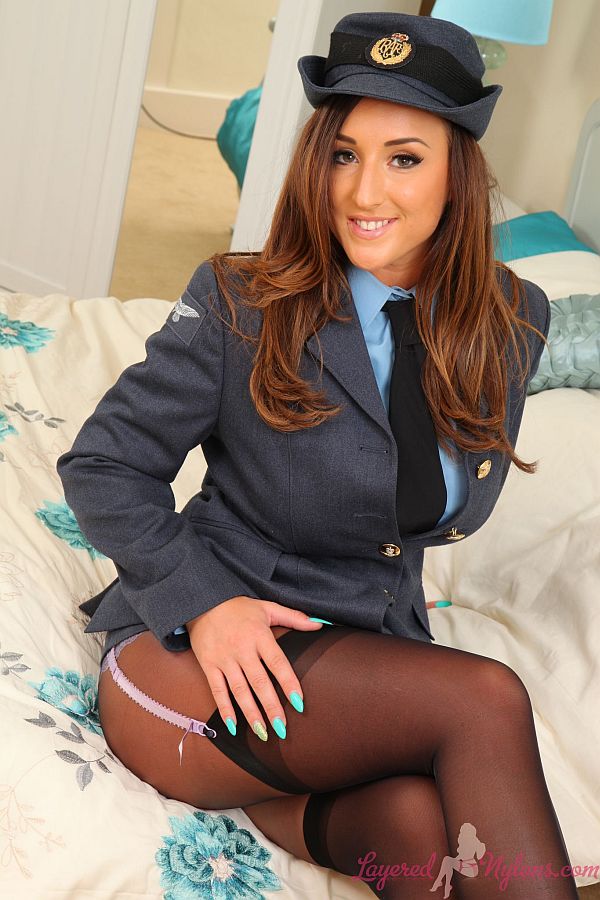 We all love a girl in uniform and what could be sexier than lovely Stacey P teasing in her smart WRAF outfit. Her uniform ain't exactly regulation of course, but it sure is sexy. She'd definitely turn a lot of heads if she walked through the NAAFI canteen dressed like this in short skirt, hose and heels.
'I love dressing up and this uniform is giving me naughty thoughts,' Stacey smiled as she stood and posed in her hat, smart blue jacket and short skirt. 'The idea of parading in front of a load of guys and teasing them by lifting up my skirt and showing my suspenders and stockings is quite exciting.'
Stacey showed us exactly what she meant by lifting up her skirt and revealing pink satin suspenders attached to black stockings, which were layered over black nylon pantyhose that covered her thighs. She unbuttoned the front of her jacket and stripped it off and posed in her blue shirt, while still giving a tantalizing glimpse of stocking tops below the hem of her short skirt.
Stacey removed her black tie and opened her shirt to uncover her huge tits, supported by a lilac colored, low cut bra. She unzipped the back of her skirt and it slipped down her legs, bending over slightly to give a view of her fabulous ass sheathed in sheer nylon and the matching lace panties underneath.
Stacey lay back on the bed and kicked up her legs and rubbed them together, then slipped off her stiletto heels and allowed them to dangle freely from her stockinged toes. Then she sat up and stripped off the shirt and bra, unleashing the mounds of her fabulous all natural boobs which hung down her chest.
Standing in her stockinged feet, she posed in her lingerie and turned to give another view of her rounded buttocks encased in sheer nylon, bounded by the taut suspenders that strained on the tops of her sexy nylon stockings.