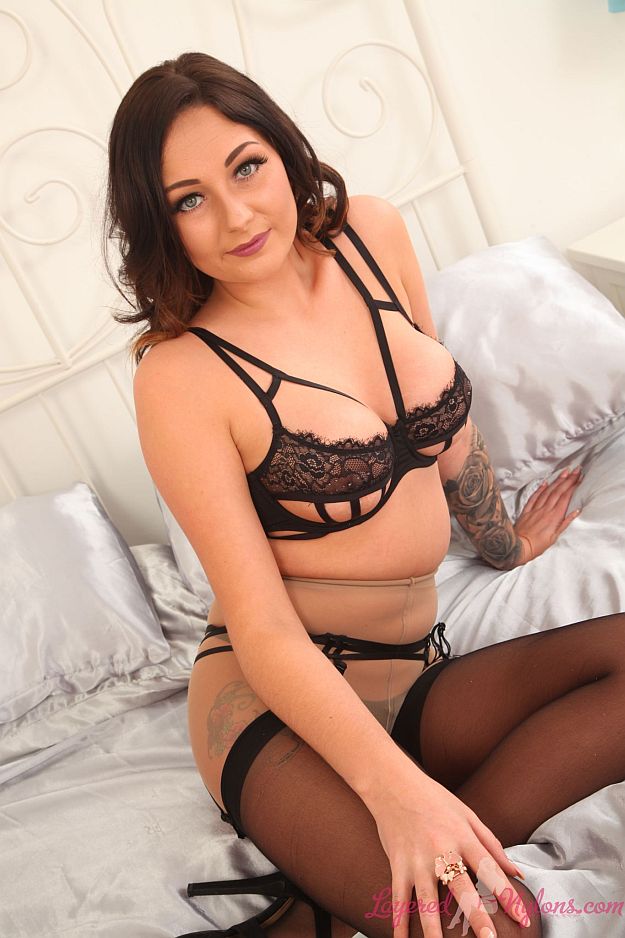 Tattooed brunette Lauren strips off her short pink top and leather skirt to pose in her designer lingerie and black and tan layers of hosiery in her latest photo-set for Layered-Nylons.
Lauren reclined on the bed and lay on her side stretching out her shapely legs, her stocking tops visible just under the hem of her sexy leather skirt. She knelt and tugged the skirt up around her hips, revealing the gusset of her beige-ten pantyhose stretched between her thighs and layered over the crotch of her panties.
Lauren stood by the bed in her stiletto heels and stripped off her top, revealing a designer bra strapped around her breasts that showed the nipples through the semi-sheer, black lace cups. She unzipped the back of the leather skirt and let it slide down to her thighs, revealing a black pantie thong and matching designer suspender-belt laced around her hips and attached to her stockings.
Lauren stripped the dress down her legs and over her heels, then posed in her lingerie as she caressed her thighs and playfully slipped her fingers under her stocking tops. She reached behind her back and released the catch of her bra, then slowly stripped away the cups and teasingly held her hands over her breasts.