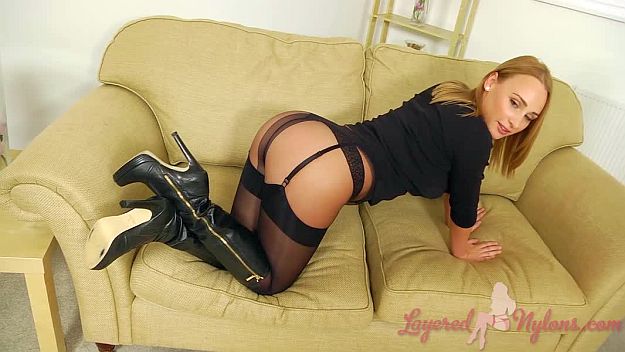 Rachel May is dressed incredibly sexy in a tight-fitting black top, short skirt that hugged her fabulous ass, her shapely legs so alluring in black hosiery and knee-high boots.
Rachel leaned forward to give a down-view of her cleavage in the front of open neck her top, then turned to show off her fabulous ass in that tight short skirt. Pulling up the skirt revealed the 'whale tail' of her pantie thong separating the cheeks of her fabulous ass sheathed in black nylon pantyhose.
Rachel bent over to give more views of her lovely bum clad in black suspenders attached to stockings under the hose. She slowly stripped the skirt over the cheeks of her ass, slid it down her delectable legs and over her sexy, black leather boots. She then pulled the stretchy top over her head and stripped off her black lace bra to uncover her perfectly formed all natural breasts.
Rachel stood in her boots as she fondled her lovely tits and showed her fabulous curves in her black lace panties, suspender-belt and layers of nylon hosiery.