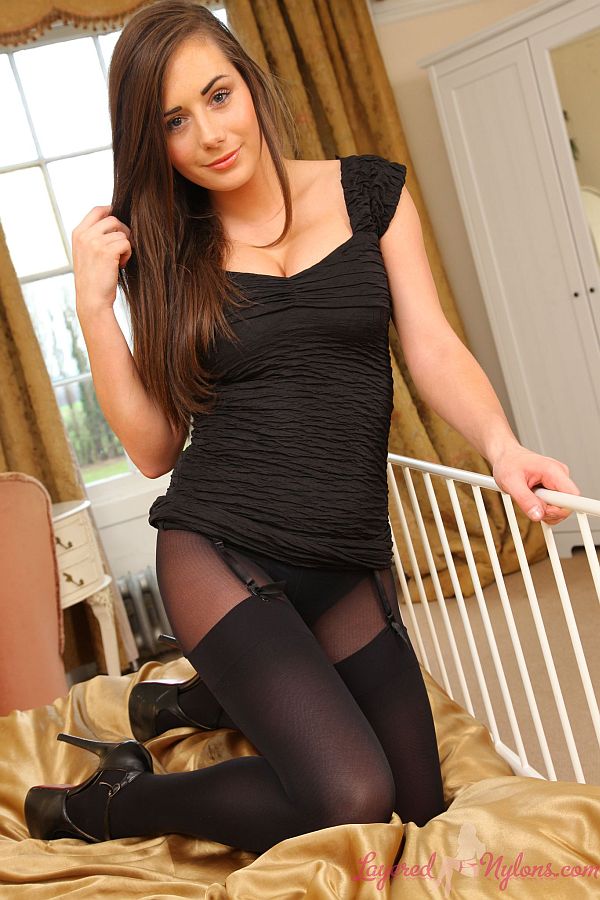 Laura H had an expression of slight amusement on her face as she reclined on the bed and pulled up the hem of her tight fitting dress, to reveal she was wearing black nylon pantyhose,suspenders and stockings.
Laura rolled onto her back, lifted up and held her shapely legs close together, crossing them at the ankles to point her stiletto heels at the ceiling; her black suspenders stretching around the back of her pantyhosed thighs pulling taut on the tops of her stockings.
Sitting up, she stripped off her dress to show the creamy flesh of her cleavage supported by a satin, teal blue bra, and slipping the straps over her shoulders, she peeled away the cups and displayed the mounds of her all natural breasts.
Laura removed her bra and heels, then stripped off her black stockings and pantyhose, leaving herself in just panties and the black suspender belt around her naked hips.
She then reversed her striptease by rolling on each of her stockings and attaching the suspenders, then finally pulled on her pantyhose to cover her lingerie in a layer of black, sheer nylon, that streched up to her waist.