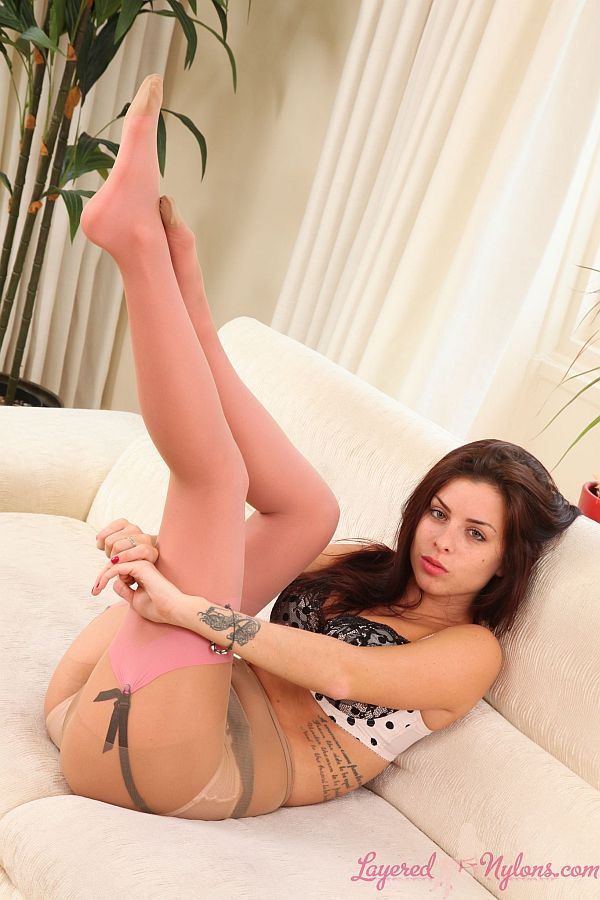 Rae lay back on the sofa and stretched out her legs, slowly lifting up the edge of her dress to give a tantalizing glimpse of black suspenders and pink nylon stockings, under a layer of tan, sheer nylon pantyhose.
Rae rolled over slightly and parted her legs to reveal the oval gusset of her pantyhose, streched over some sexy, white panties with black polka dots, that looked so tight around her crotch.
The black suspenders looked so hot and sexy at they stretched across her thighs, pulling taut of the tops of her contrasting pink stockings, under the layer of her tan, sheer nylon hose.
Rae stripped out of the dress, revealing she was wearing a lacy bra with polka dots and matching panties, along with a black suspender belt worn under high waisted nylon tights.
Rae lifted up her arms and ran her hands through her long brunette hair as she posed in her pretty lingerie, then pushed her forearm down her tights and ran her hands over her stockinged and suspendered thighs under the stretchy, sheer nylon of her hose.
Slipping off her heels, she raised and extended her legs to offer close up views of her feet in their opaque pink layers of nylon, then stripped off her bra to pose topless and stretched the waist of her pantyhose up to the underside of her all natural breasts.