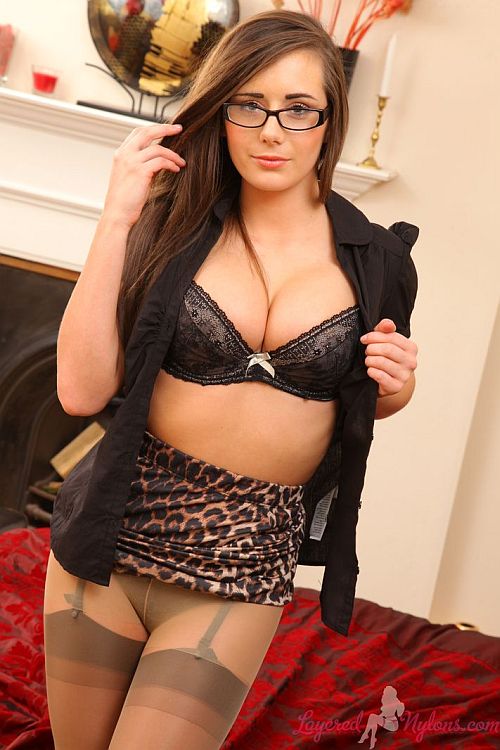 Gorgeous brunette Laura H looks like the perfect bespectacled secretary in sexy leopard print skirt and heels here in her debut photo set at Layered-Nylons.
Laura loves to flirt in the office and wear sexy clothes that will attract the attention of her male colleagues, and what could be sexier than her current outfit which is getting all the guys hot under the collar.
'All the guys in the office asked me whether I prefer wearing stockings or pantyhose.' Laura giggled, as she sat on the bed, her beautiful brown eyes peering over the rim of her spectacles. 'As I don't mind wearing either I decided to wear both together one day and found it very sexy, do you want to see?'
Laura pulled her skirt up over her thigh to show she was wearing some light beige pantyhose layered over tan nylon stockings, a combination which perfectly blended together.
'They'd never guess I was wearing both pantyhose and stockings, plus a suspender belt to hold them up', she added, lifting the skirt even higher to give a glimpse of suspender attached to the top of her stockings.
Laura stripped off her top, uncovering her black lacy bra and pulled down the cups to reveal she was quite a busty girl with lovely full-rounded breasts. Stripping off her skirt, she lay on the bed and slipped off her heels, then pulled down her beige pantyhose to let us get a look at her black panties and lacy suspender belt.
We are sure the guys in Laura's office would be even hotter under the collar if they knew exactly what she was wearing under her skirt.