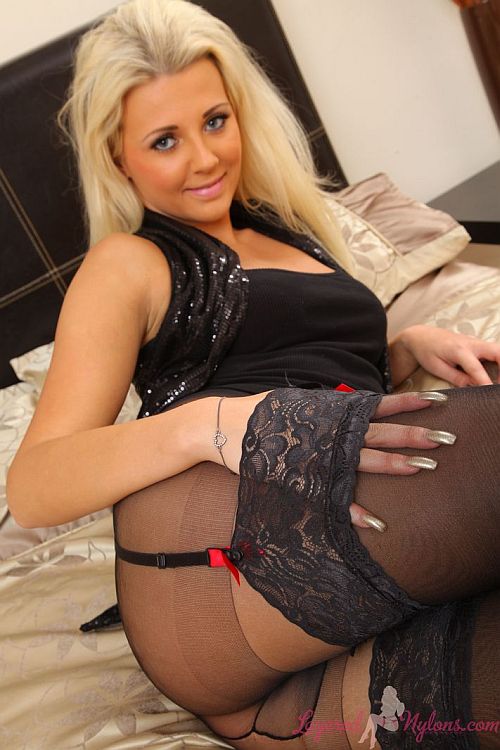 Becki H turned up for this photo shoot wearing a glittery waistcoat jacket and black top, denim jeans and some knees high suede boots.
'This is what I wear when I got out clubbing, do you like my outfit?' Becki asked, turning on the spot to give us a look at her nice ass in those skintight blue jeans. We agreed she looked very appealing, but wanted to know what type of underwear she was wearing under her clothes.
Sitting on the edge bed she untied her lace up boots and the first thing we saw were her pretty feet in black nylon. She then slipped her jeans over the cheeks of her gorgeous ass and revealed she was wearing a black and red suspender belt and lace top stockings over sheer nylon pantyhose.
Becki lay on one side and slipped her hand between her lacy stocking top and the layer of black hose, then knelt to give us a view of her lovely bum encased in clingy nylon. Her long suspenders stretched right round the curves of her buttocks and pulled on the tops of her stockings, where they were attached by clasps which were protected by a contrasting red ribbon.
Removing her black top revealed she was wearing a red uplift bra, which she stripped away to pose topless in her layers of red lingerie and black nylon hose beneath which she was sans panties.