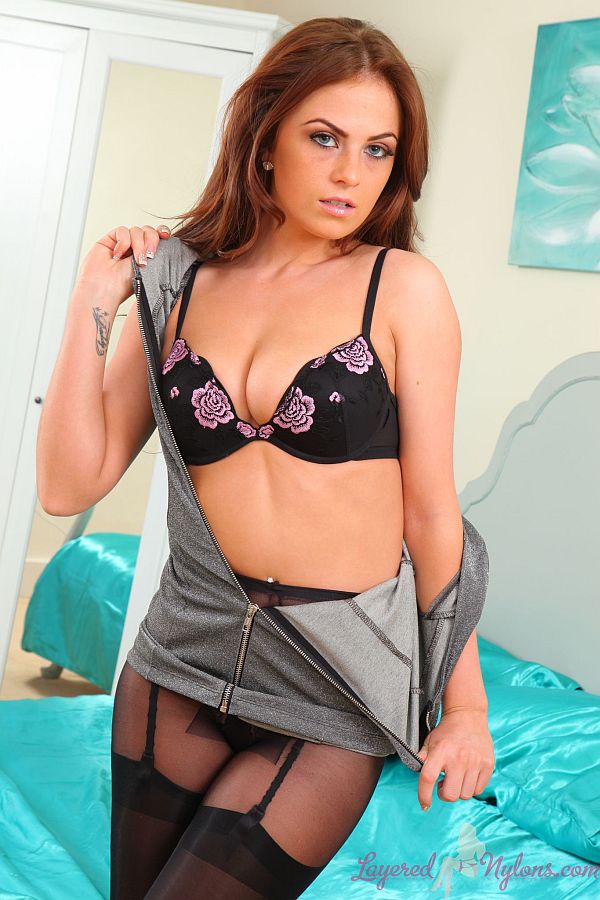 Kerri W is a stunning looking brunette and looked so sexy as she slowly lifted up the hem of her dress to reveal her thighs, clad in a layer of sheer nylon pantyhose, over black suspenders and stockings.
Kerri turned around to let us get a view of her fabulous, pert bum cheeks, encased in clingy nylon pantyhose and the taut black suspenders attached to the tops of her stockings.
She sat on the edge of the bed and rubbed her legs together in their silky layers of hose, displaying her feet in their shiny black, patent leather heels. Then she unzipped the top of her dress and pulled it open to display the soft flesh of her cleavage, pushed together and uplifted by a pretty floral patterned bra.
Standing, she fully unzipped the front of her tight fitting dress, letting it slide down her body, then pushed her hands down the rear of her hose as she posed in her layers of lingerie and nylon.
Slipping off her heels, she dangled them loosely from her toes, before removing them completely and stretching herself out on the bed to give close up views of the soles of her feet in black nylon.
Kerri finally removed her bra and stood on the bed in her stockinged feet as she posed topless in her sexy layers of black lingerie and nylon hosiery.