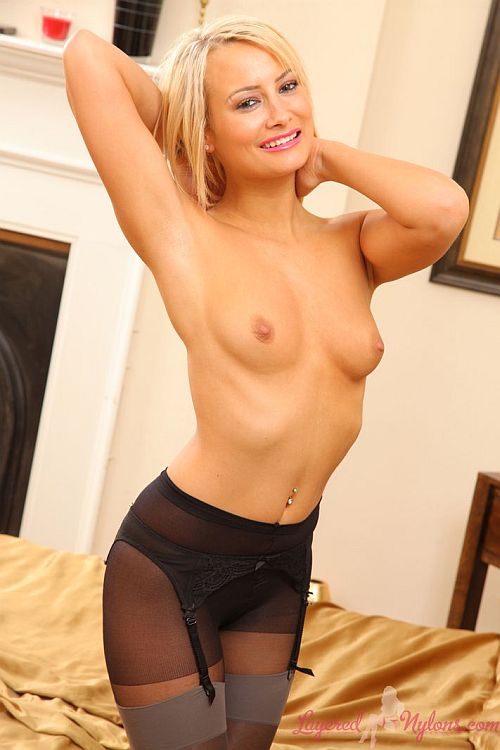 Kelli Smith is a fit looking blonde babe with very sexy legs, which looked especially appealing in the layer of sheer black pantyhose and nylon stockings she was wearing when she posed for this photo set.
Kelli knelt on the bed with one leg extended outward to show off the taut outlines of her leg muscles under the layers of nylon. The sight of her tight skirt lifting higher as she leaned over and revealed her black suspenders stretching down to the tops of her stockings under the thin layer of nylon, looked very exciting to behold.
Looking back over her shoulder she gave a sexy smile as she unzipped her skirt at the rear and pulled it down to reveal she was wearing black satin, full-cut panties. Next she unzipped her grey top and stripped it off to uncover the close fitting, uplift bra she was wearing underneath. The bra had a zip at the front which she unzipped and pulled open to reveal her all natural perfectly formed breasts and pose topless.
Kelli then performed a complete striptease and removed all of her lingerie and nylons, except for her panties. Then she reversed the order of her strip and pulled on her pantyhose, then rolled on her stockings and finally attached her suspenders to the tops of her nylons.