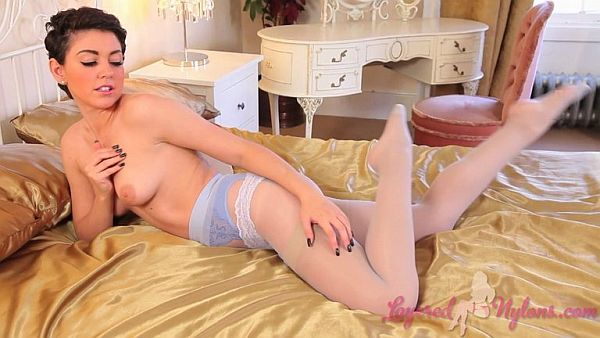 .
'Hi, guys. I'm Bryoni Kate, I hope you enjoy my little tease for you in my satin nightdress,' said lovely Kate, who returns in this video wearing sheer nylon pantyhose layered over beige stockings and panties.
Kate loved the feel of her light blue, satin nightie and enjoyed the sensation of rubbing the shiny, slippery material against her shapely hips and thighs. Laying on the bed she moved the edge of the satin nightie up to her waist and slipped her hand down the side of her sheer nylon pantyhose, moving it over the flesh of her soft thighs and the lacy French knickers she was wearing under her hose.
Kate knelt on the bed and lifted the satin nightie so that we could get a better view of her knickers and the blue lace suspender belt under her layer of pantyhose. She then stripped off her nightie and holding it in both hands she rubbed the cool shiny satin all over her naked top and all natural, petite breasts.
Laying back once more she slipped off her shoes and lifted her legs to present her feet for some close up views of the soles and toes as she rubbed them together. Then stood in her lingerie and layers of nylon, gently swaying as she caressed her naked body and breasts with her hands.