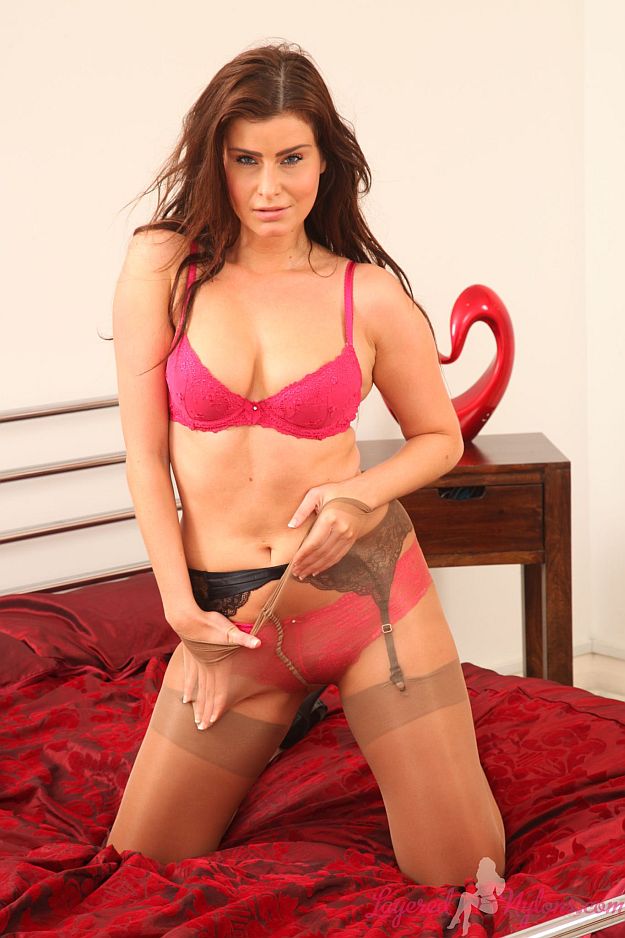 Long haired brunette Kamila looked sexy dressed in her casual outfit – black vest top and short denim skirt below which the tops of her tan stockings were visible under the layer of her sheer nylon pantyhose.
Kneeling on the bed with her legs apart, the skirt rode up her thighs, revealing black suspenders attached to her stockings and the crotch of her pink panties under her hose. She turned to give a rear view with her legs spread and ass tilted upward to show the opaque oval of her pantyhose gusset stretched over the crotch of her panties.
Kamila stripped off her vest top to uncover the pink bra and that uplifted and displayed the ample flesh of her cleavage. She stood by the bed and slowly unzipped the front of her skirt and pulled the tight denim over her ass. The skirt slipped down her legs in their layers of nylon hosiery and fell to the floor around her heels, whereupon she stepped out of it and turned to pose in her lingerie.
Kamila pulled the stretchy nylon pantyhose around her waist, pushing her hands down the rear of her hose and caressing her buttocks clad in her pink lace panties. Slipping the straps over her shoulders and down her arms, she stripped off the bra and posed to show us her naked, all natural breasts.
Having removed her heels, she stood in her stockinged feet and pulled down her pantyhose around her thighs to uncover her pink French knickers and black suspender-belt.