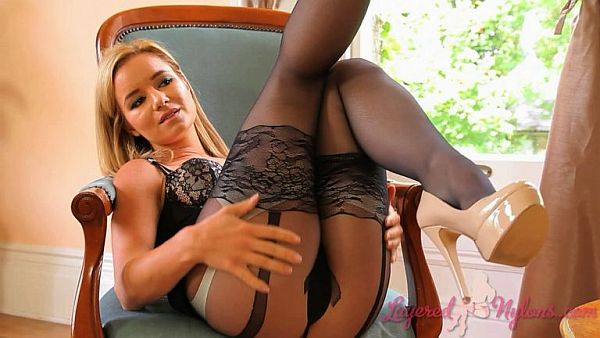 Jana B was wearing an unusual combination of patterned pantyhose layered over white nylon stockings and suspenders for this video.
Jana turned to give a rear view of her pantyhose, which had a faux suspender and lace top stocking pattern that looked incredibly sexy as she swayed her ass and brushed her hands over her pert buttocks encased in black, sheer nylon.
Sitting in a chair she constantly moved her hands over her sexy legs, reaching forward to touch her ankles and then sweeping her fingers up over her knees to caress her thighs covered in the wide lace pattern of her hose.
Jana pulled down the cups of her lacy camisole to uncover her petite breasts, then rubbed her hands all over the bud like nipples which were hard and erect. Slipping the camisole down her legs to remove it, she lay back in the chair with her legs apart, stretching her pantyhose up her waist so it was pulled tightly against her pantied crotch.
Standing, she rolled down her pantyhose until they were around her thighs, revealing she was wearing a white latex suspender belt and a very small black thong, which she pulled down slightly as she posed semi-nude for the final shots.