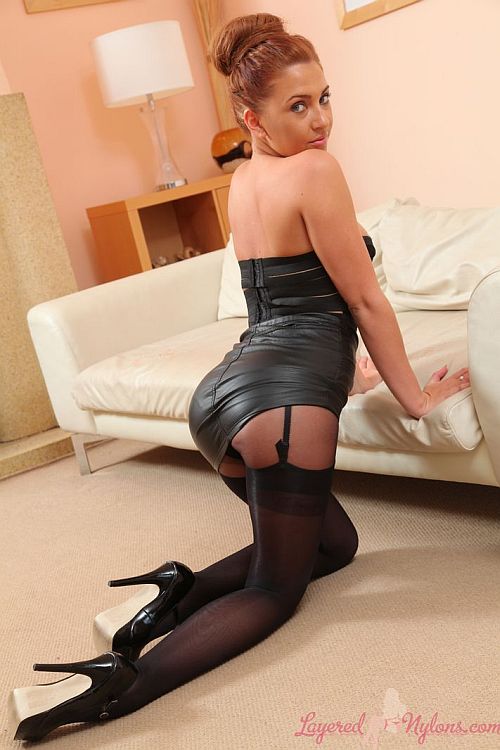 Blue-eyed redhead Gracie looked fabulous as she stood hands on hips in her tight leather skirt, through which you could see the outlines of her panties and the bumps of her suspenders. Her legs covered in their layers of shiny black nylon seemed to extend forever as she posed in her super six inch, patent leather stiletto heels.
Turning around to give us a rear view, she leaned forward and her leather skirt pulled tight around the curves of her ass. Then she pulled up the hem to reveal there were black suspenders attached to some very sexy 'Trasparenze' nylon stockings, all under a layer of sheer nylon pantyhose.
Gracie unzipped her skirt at the front and peeled it away to reveal she was wearing some very sexy, black lace panties under her hose, and a skimpy suspender belt with long black suspenders that stretched over her thighs to the tops of her stockings.
Undoing the tight fitting 'boob-tube' she removed it to uncover her breasts and pose topless, then stretched the pantyhose right up her waist to her soft, pink nipples. She then pushed her arm right down the side of her hose until it was covered right up to her elbow and moved it inside the layer of nylon and felt her stockinged thighs with her hand.
Gracie removed her heels and stood to pose topless, pulling and stretching her pantyhose as she turned to give more views of her legs and ass in their layers of black, sheer nylon.