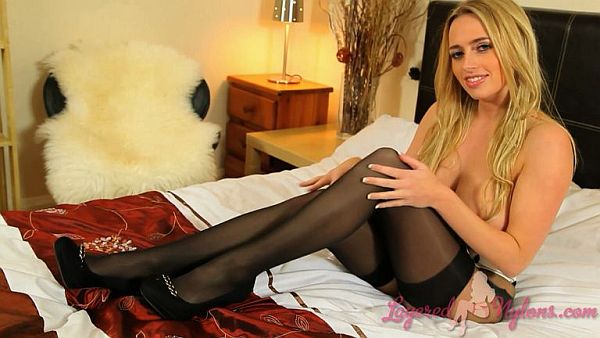 'Hi guys, I'm Holly. I really hope you like my tights and suspenders today,' said our gorgeous looking blonde wearing a tight fitting woolen dress which really accentuated her magnificent curves.
It didn't take long for Holly to begin lifting up the hem of her dress and show she was wearing a layer of black, nylon stockings and suspenders over ultra-sheer nylon pantyhose. She turned to give a rear view and show off her shiny black panties under her hose, which when combined with the layer of sheer hose produced an amazing sheen like effect.
Holly knelt on the bed and stripped off the dress, pulling it over her head to uncover her gorgeous all natural, full-size breasts; her long blonde hair flowing over her shoulders and lightly brushing against the tips of her erect nipples.
She hooked her thumbs under the garters of her suspender-belt which was slung around her hips and tugged them gently; then slipped her hands between the tops of her stockings and the layer of shiny pantyhose covering her thighs.
Holly lay back on the bed and gave a sensual smile as her hands caressed her legs sheathed in slick, shiny nylon, then stood with her heels clinking on the floorboards as she posed topless for the final shots of her moving her hands over her fabulous figure.