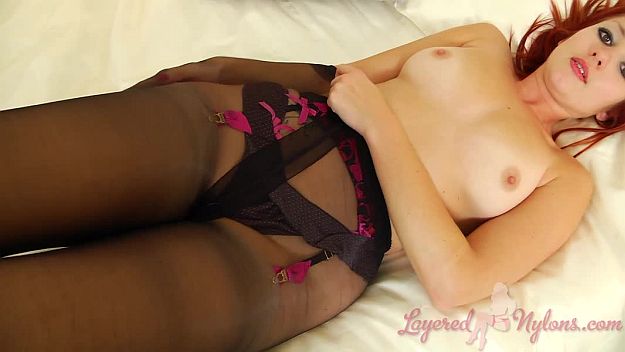 Harley looked elegant as she posed in her long black evening dress, which hung by thin straps from her shoulders and covered the lower half of her body. The satin lining of her dress swished against her legs as she lifted it up to her waist, revealing a black pantie thong and a suspender-belt decorated with pink ribbons, attached to tan stockings under sheer nylon pantyhose.
Harley knelt on the bed and pulled up the back of the dress and stroked her shapley buttocks encased in black sheer nylon. Her hands swept over the curve of her ass and caressed the bumps of the taut suspenders that stretched against her thighs under the layer of her sheer nylon tights.
Harley sat and slipped off her gold-glitter heels and reached forward to stroke her feet, then drew her hands up her legs and over the surface of her sexy nylon hose. She slipped the straps of the dress over her shoulders and unzipped it at the side, then stripped it off to reveal the soft flesh of her ample all natural breasts.
Harley lay back on the bed then slipped her arm down the front of her hose and pushed it deep inside as far as her elbow. Her arm moved around under the stretchy nylon as her hand explored the contrasting sensation of her suspenders and stockings against the flesh of her thighs.