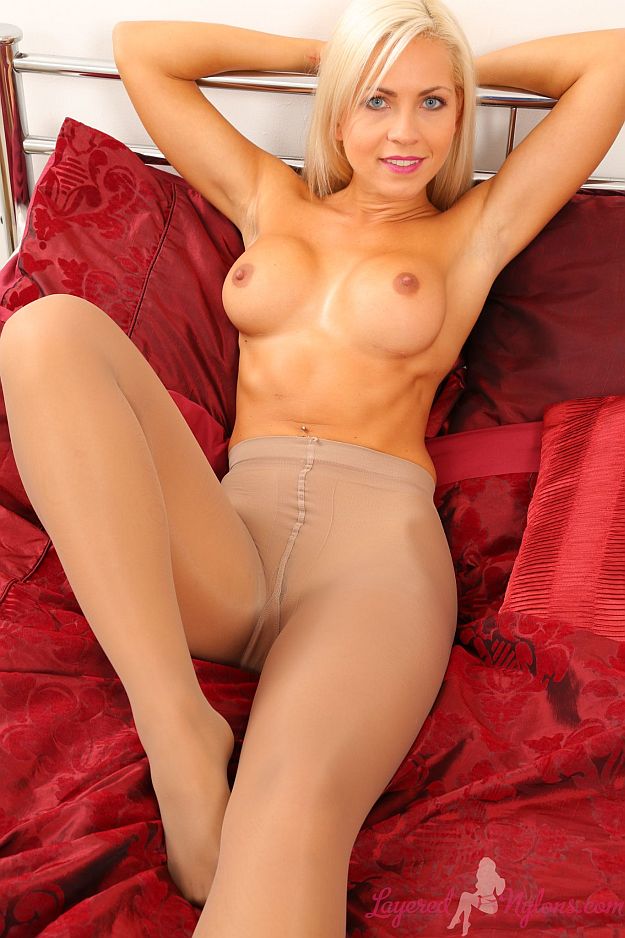 Gorgeous blonde Jenni P returns to give us some nice views of her shapley hips, ass and legs in double layers of beige-tan pantyhose in her latest photo-set.
Jenni's boobs thrust under the black stretchy roll-neck top, the layers of smooth nylon hose accentuating the shapeliness of her legs as she stood in her heels. She bent slightly to give a view under her short denim skirt, revealing that she was not wearing any panties behind the crotch of her pantyhose.
Jenni unzipped the front of her skirt and turned to pull it over the round cheeks of her ass, all nicely sheathed in the double layer of nylon clinging to her buttocks. The skirt slipped down her long nylon clad legs to the floor and she stepped out and kicked it away to one side to stand in her heels.
Jenni reclined on the bed and opened her legs to give a view of her crotch layered in the double gusset of her beige-tan pantyhose. She unbuckled her heels and took them off, then knelt on the bed and stripped off her black top to reveal a red bra underneath.
Jenni stood by the bed and stripped off the bra, posing topless while she hooked her thumbs into the top layer of her hose and pulled them down over her bum cheeks.