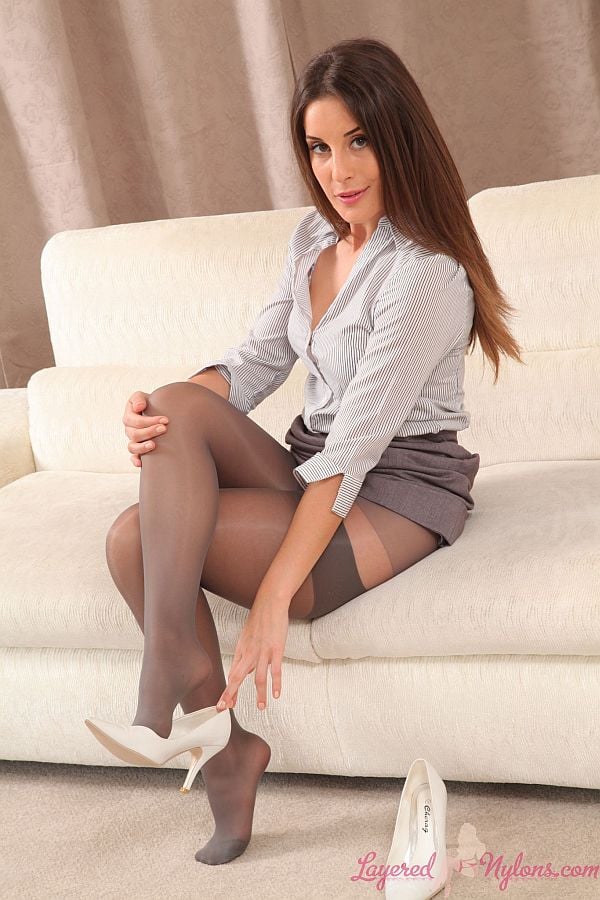 After a long day in the office, secretary Emily likes to strip off her clothes and relax in her lingerie and layers of nylon.
Emily's lustrous brunette hair fell over her shoulders, as she posed in her fitted grey suit and displayed her shapely legs in shiny nylons and white stiletto heels. She removed her jacket and standing with hands around her hips, showed off her curves in the grey pencil skirt which wrapped tight around her sexy ass.
She sat on the sofa and raised the hem of her skirt to reveal a glimpse of blue suspenders, attached to black stockings, all under the shiny layer of her sheer nylon pantyhose. Slipping off her heels, she lay back and stretched out her long legs to show off her pretty feet, encased in their dusky layers of nylon hosiery.
Emily unbuttoned her pinstripe shirt and stripped it off to reveal a white cotton and blue floral pattern bra supporting her boobs. Standing in her stocking feet, she unzipped her skirt and bent over slightly to give us a view of her nyloned ass, as the garment slipped down her legs in their shiny, nylon hose.
Emily hooked her thumbs under the straps of her bra, pulling them over her shoulders and down her arms, then stripping the bra cups away to allow her all natural breasts to hang freely, as she posed in her layers of lingerie and nylon.