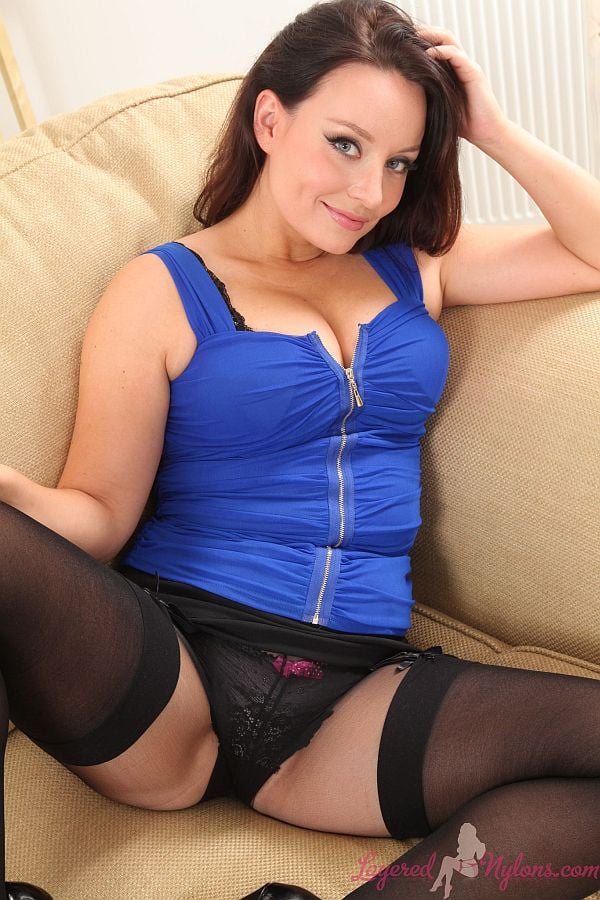 It looked like Carla's boobs were trying to bust out of the front of her zip-up top, as she posed in her tight-fitting, short skirt that gave us tantalizing glimpses of the tops of her black stockings.
Kneeling with one leg on the sofa and the other extended sideways to the floor, she lifted her skirt to reveal her ass sheathed in a layer of black nylon pantyhose, under which she was wearing black, sheer nylon panties.
Carla looked back at us with a sexy smile on her face as she as she slid her fingers between the layers of nylon, causing her suspenders to strain against the top of her stockings as her hand caressed her nylon clad thigh.
Carla unzipped her top and stripped it off to reveal a black lace bra, which she stripped off to release her ample breasts, and framed them in her folded arms as she posed topless in her lingerie, nylon hose and heels.