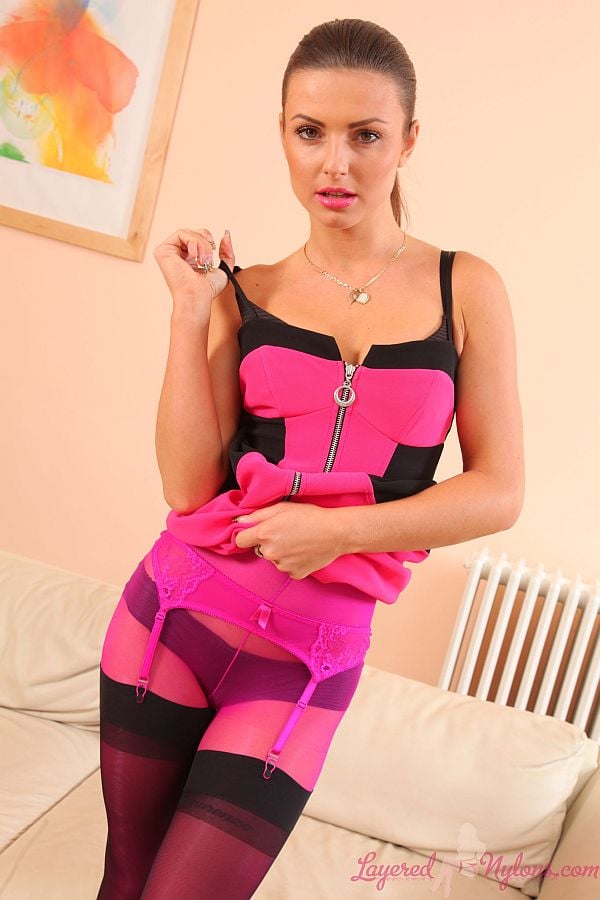 Caroline posed in her stylish pink and black dress and turned around to show off her shapely legs, which were layered in fuchsia pink tights, under black nylon stockings.
Sitting on the arm of her sofa she crossed her legs in their super sexy in stiletto heels, then lifted up the hem of her dress to reveal she was wearing hot pink suspenders, attached to the tops of her black nylon stockings.
Kneeling with her legs slightly parted to give a tantalizing view of her pantyhose crotch, she unzipped the front of her dress and peeled it open to show she was wearing a black bra. Then standing, she pulled down the last of the zipper and opened the front of the dress, posing in her sizzling, hot pink garter-belt and suspenders, which nicely framed the black panties around her crotch under her sheer nylon hose.
Caroline slipped off her heels and lay back on the sofa, lifting her legs upwards and crossing them slightly at the ankles to give us a view of the soles of her feet cocooned in their layers of nylon hosiery.
She eventually teased out of her bra, but carefully concealed her naked breasts with her arms folded over them, and stretched out on the sofa to give more views of her shapely legs and ass sheathed in layers of sexy nylon.