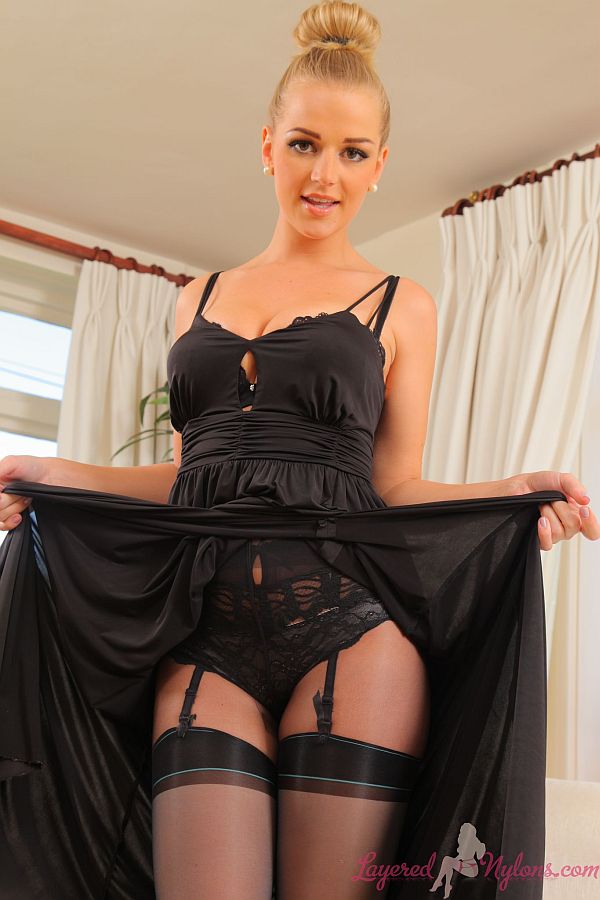 Victoria A looked very classy in her elegant black, low cut evening dress, that nicely emphasized her cleavage, displaying a glimpse of stocking top, which appeared through the side split of the material that covered her legs.
Victoria lifted the front of the dress and parted it further, holding it out on either the side to show she was wearing Cervain 'Capri Bi-colore' nylon stockings, lacy black suspenders and panties.
Beige coloured, sheer nylon pantyhose, were actually layered over the top of her sexy underwear and almost invisible to the eye, except for the soft reflection they gave as she crossed and uncrossed her legs.
Victoria unzipped the dress at the back and let it slide swiftly down her body to the floor, revealing she was wearing a very expensive lacy bra, with a delicate sea-shell like pattern. And then sitting down she slipped off her heels and the straps of the bra, slowly peeling away the cups to uncover her all-natural breasts and large, puffy nipples.
Victoria then stood and posed topless in her underwear, standing on her stockinged tip-toes and turning to show of her ass, sheathed in shiny, sheer pantyhose and her legs in their sensual black nylon stockings.