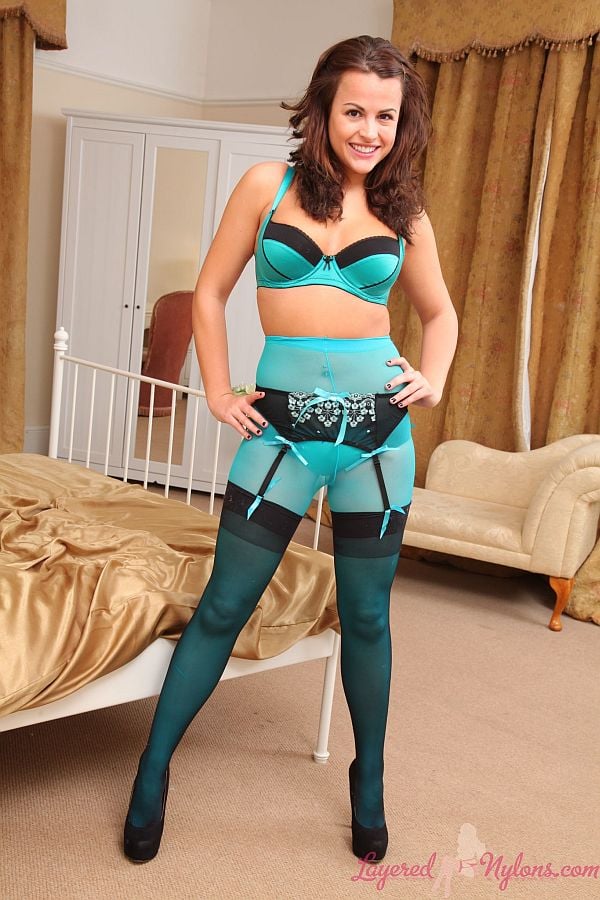 Robyn's grey mohair dress clung to the contours of her shapely figure as she stood with hands around her hips and smiled at us with a glint of naughty of promise in her eyes.
The front of the dress followed the shape of her rounded boobs and hung down as far as her thighs, above which we could see the bumps of her suspenders visible though the soft woolen material.
Her legs were covered in blue nylon and when she lifted one foot onto the bed, the hem of her skirt pulled back over her thigh and revealed that she was actually wearing black nylon stockings, layered over turquoise blue pantyhose.
Lifting her dress up higher revealed she was wearing a black suspender belt around her hips, which had a pretty floral pattern embroidered in the front, and a turquoise blue satin bra which perfectly matched the colour of her pantyhose.
Robyn slipped the straps of her bra over her shoulders and removed it so she could pose topless, then took off her shoes and stretched out on the bed to offer views of her legs and feet in their layers of stockings and pantyhose.