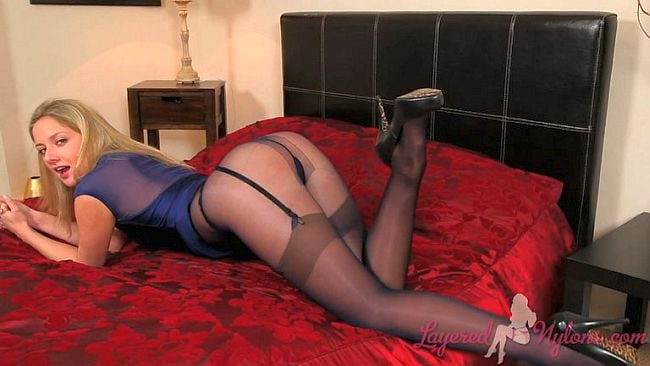 'Hi Guys, I'm Nikki F, nice to see you again, you've got a treat in store, so follow me,' said our shapely blonde as she stood by the bed in patent leather heels, wearing a tight fitting, blue satin dress, that clung to the outline of her body and some incredibly shiny dark blue nylons on her legs.
Nikki slowly hiked up the back of her dress and leaning forward her dress wrapped tightly around her ass, revealing black suspenders which stretched down her thighs and pulled on the tops of tan stockings layered under shiny nylon pantyhose.
'So here we have a lovely combination of navy blue tights, with tan stockings underneath,' Nikki said as she stood moving her legs together, one in front of the other, then turned to give a view of her lovely ass encased in sheer nylon.
Nikki reclined on the bed and caressed the length of her shapely legs, then extended them upwards to give us a view of their sensual curves sheathed in lustrous layers of  nylon.
Stripping off her dress revealed her naked breasts which she covered with her hands, then she sprawled on the bed and flexed her legs in their sexy layers of nylon hosiery and stiletto heels.
'So boys, what do you prefer? Tan stockings underneath or nylon pantyhose, or both? Whatever, the make for a nice silky combination, don't you think?'