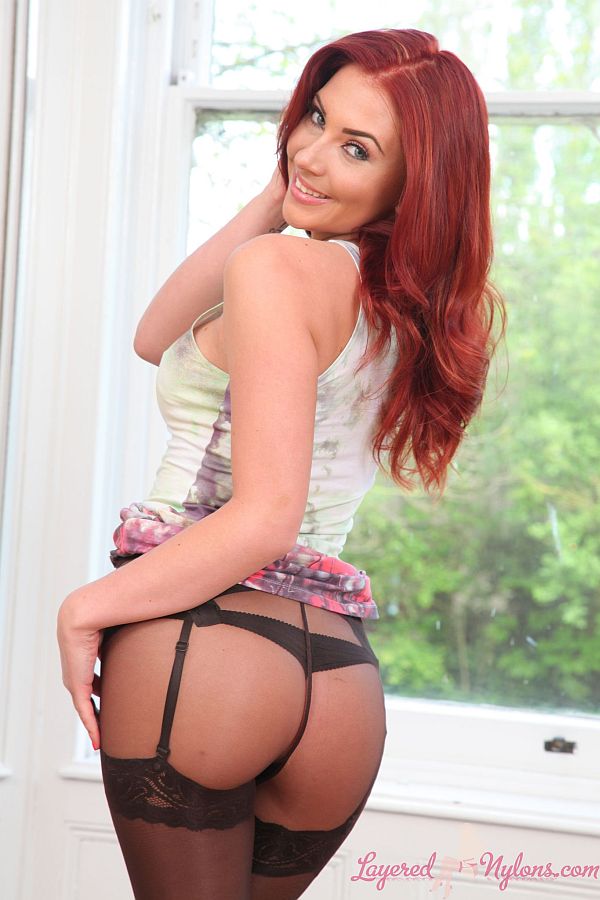 Leggy redhead Gracie lifted the edge of her printed cotton dress to reveal she was wearing black, lace topped stockings under a layer of sheer nylon pantyhose.
Turning to face the window, she then looked back over her shoulder and smiled as she lifted up the dress to show her fabulous ass sheathed in black, shiny nylon.
Gracie exhibited her shapely ass and firm pert cheeks, all nicely framed by the 'whale-tail' of her black thong which slipped between the cleavage of her buttocks and the thin black suspenders that stretched down to her stocking tops.
Kneeling on the chaise-lounge she tilted her ass upwards for more views of her shapely rump, then sat and crossed her legs as she slipped of each of her heels and gave a close up view of her nyloned feet.
Removing her dress she posed topless and pushed her forearm down the side of her pantyhose to touch the tops of her stockings with her fingertips. Then she took hold of the waist of her hose and pulled them down her thighs to uncover her lace lingerie suspender belt and sexy black pantie thong.