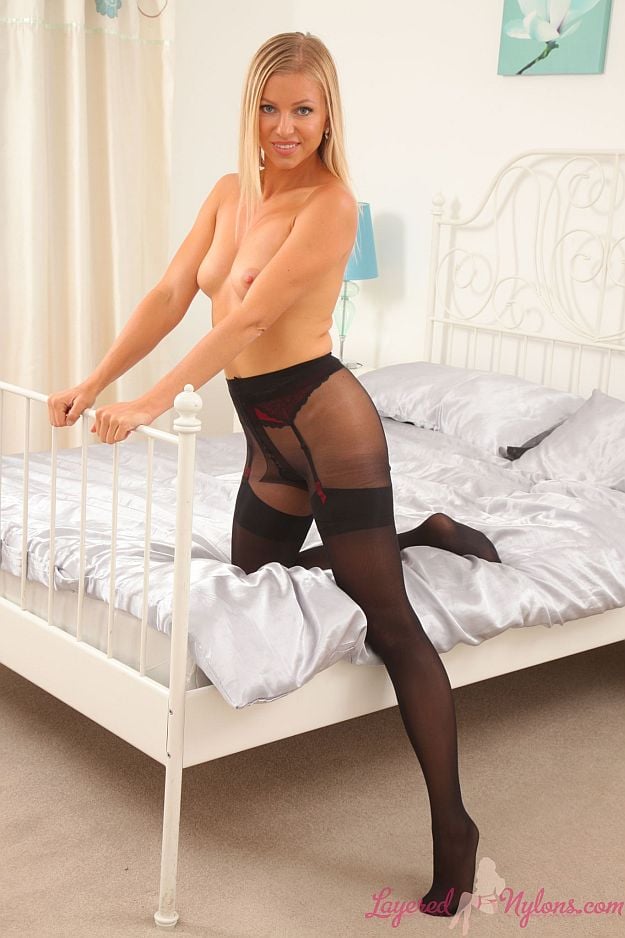 Beautiful blonde Blanca looked ready to party in her classic short black dress, so sexy as she turned and posed to show the curve of her ass nicely defined under the clingy material, her shapely legs in their black nylon hosiery taping down to her feet clad in sexy open toe heel with gold stilettos.
Blanca pulled the back of her dress up to reveal her bum cheeks encased in their erotic layer of black nylon pantyhose. Her suspenders stretched around her firm buttocks, pulling taut against the tops of her black nylon stockings underneath the layer of her sheer tights.
Blanca slipped the shoulder straps of her dress down her arms and lowered the front to uncover her all natural breasts and their pink round nipples.
Pulling the dress over her ass and down her legs, she stripped it off and turned to show she was sans panties under her sheer pantyhose. The black and red suspender belt attached to her stockings under her hose, framing the black reinforced gusset that stretched tight around her crotch.
Blanca slipped off her heels and let them dangle from her stockinged toes, then reclined on the bed and stretched the waist of her pantyhose up her front and under her breasts. Her nylon clad legs brushed together as she posed in lots of positions and pointed her feet in their layers of black pantyhose and stockings.