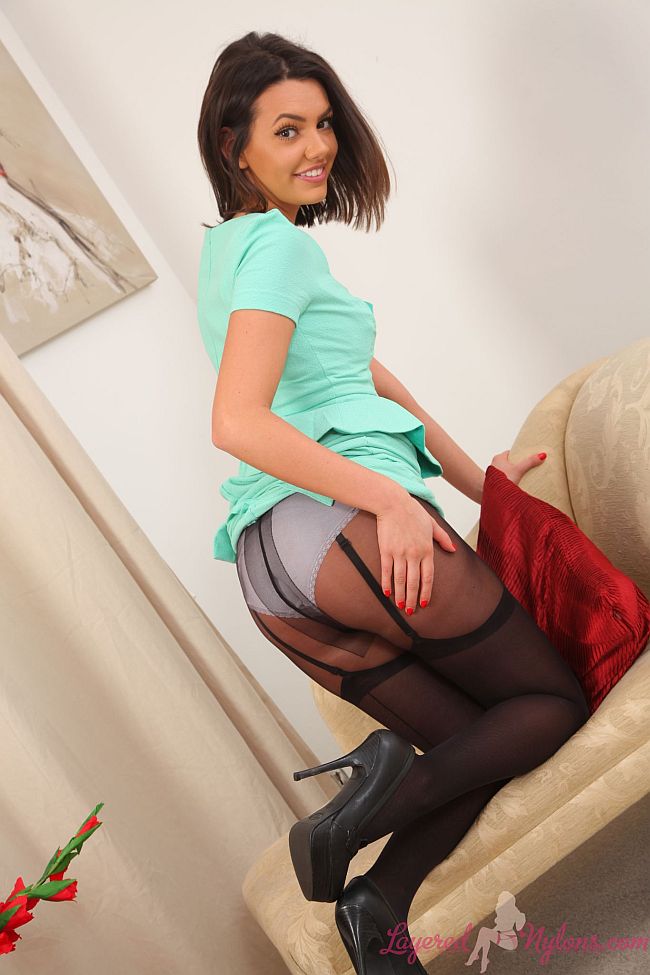 Abigail has a very saucy smile and is a lot of fun to have around, especially when she's in the mood to strip down to her lingerie and nylon hosiery…
Abigail stood before us and slowly lifted up the front of her turquoise colored dress to reveal she was wearing white panties, black suspenders and stockings under a layer of sheer nylon pantyhose.
Kneeling on the couch, she looked back over her shoulder and flashed one of her gorgeous smiles as she ran her hand over the curve of her buttocks encased in sexy black nylon.
Stripping off her dress revealed a white under-wired bra and a black suspender-belt around her waist, the suspenders framing her white panties under the layer of her black, nylon pantyhose.
Abigail reclined on the couch and kicked off her stiletto heels, then stripped off her bra to display her petite all natural breasts. She got up to stand in her stockinged feet and she pulled her pantyhose up her front so they were stretched tight around the crotch of her white panties. Then she turned and pushed her hands deep inside her pantyhose and pressed her palms against the flesh off her thighs and ass cheeks.