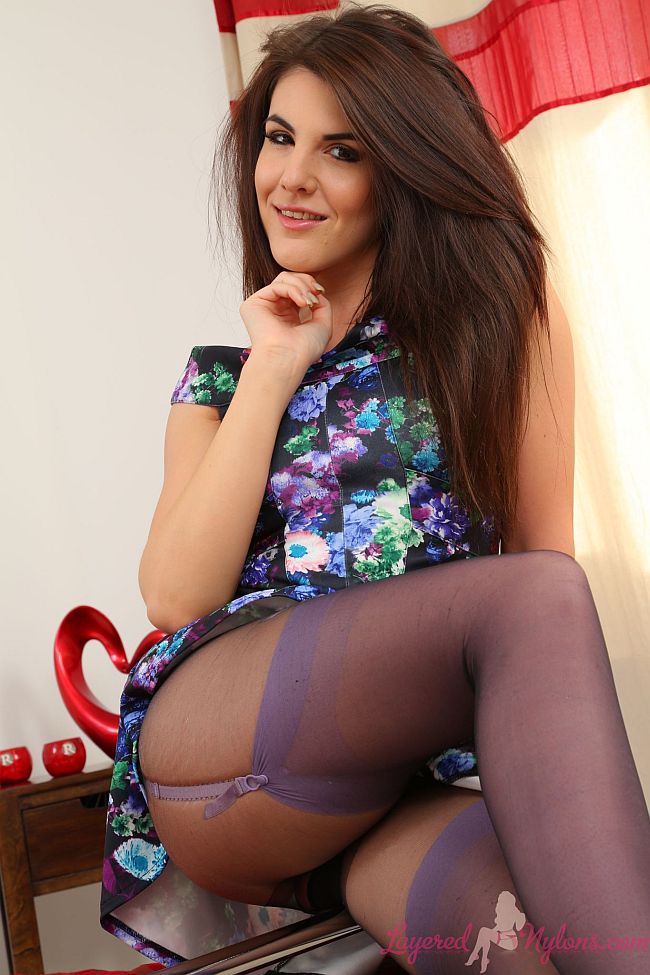 Brunette Briony wears a colorful summer dress, just perfect for lifting and flashing her layers of sheer nylon pantyhose, suspenders and stockings…
Briony sat on the foot of the bed and crossed one leg over the other, pulling back her the hem of her dress to reveal purple colored suspenders and stockings under a layer of black nylon pantyhose.
Stripping off her dress she lay on the bed and kicked up her legs, then slipped off her heels and dangled them from her stockinged toes. She removed her heels and lifted her legs higher to give an extreme close-up view of the soles her feet in their layers of purplish nylon.
Standing by the bed in her stockinged feet, she stripped off her black bra, then pushed her hand down the inside of her pantyhose and gently squeezed the soft flesh of her buttocks.
Briony knelt on the bed and rested on her elbows, her lower back curving upwards so her shapely ass was raised higher and her suspenders pulled taut on the tops of her sexy stockings.
Rolling over and sitting up, she shook her lovely mane of brunette hair and gently pushed her petite breasts between her arms so they pushed forward and hung like delicate peaches.