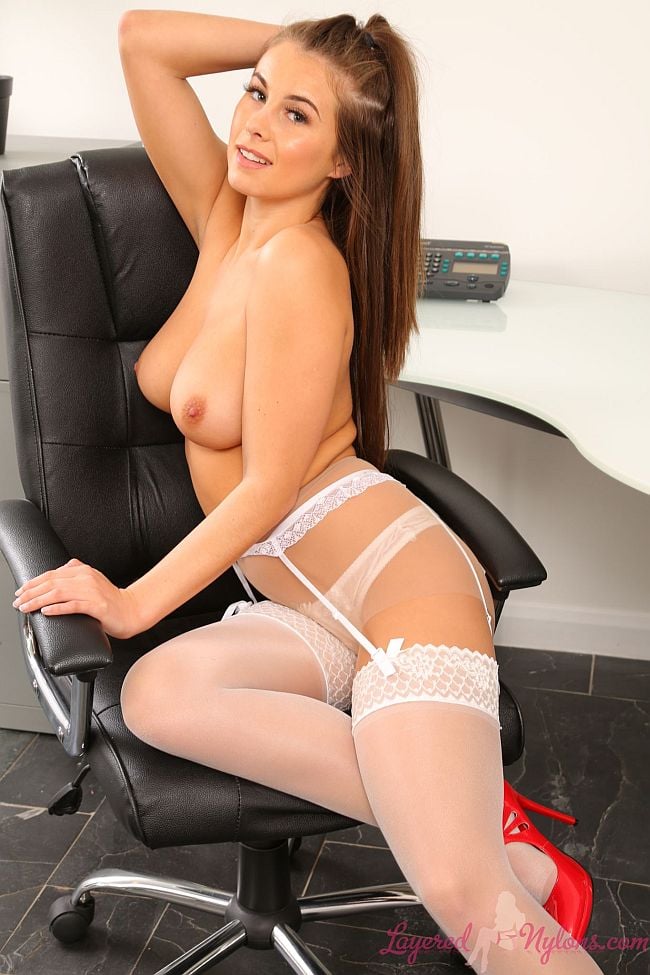 Secretary Sarah teases in the office, wearing a red top, black skirt and legs in lace topped stockings and red stiletto heels.
Sarah sits back against the edge of the desk and places one foot onto the adjacent chair to give a tantalizing view of her white lace stocking tops under her short, black skirt. Her legs brush together as she climbs and keels on the desktop, then pulls up her skirt to reveal her fabulous ass sheathed in a layer of beige-tan, sheer nylon pantyhose.
Sarah stands to strip off her skirt, revealing a delicate white suspender-belt around her waist, the thin suspenders attached to her lacy stocking tops. She pulls her top over her head, uncovering a pretty, white lacy bra, which uplifts her breasts and forms her cleavage. She slips the straps of her bra over her shoulders and reaches behind her back to unhook the eyelets and strips it away to uncover the mounds of her all natural breasts.
Sarah sits sideways in her chair to give a view of her ass sheathed in nylon, and runs her thumb under the taut suspenders so they tug on the tops of her white stockings.