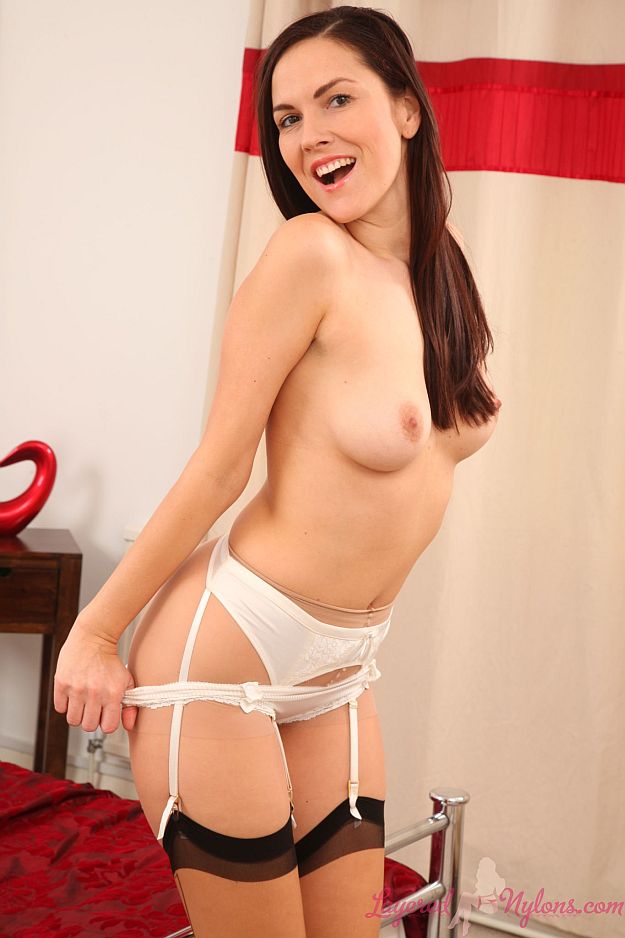 Beautiful brunette Zuzannah looked incredible in her long, slinky dress that clung to her slender body, the outline of her lingerie slightly showing through the thin material around her thighs.
Zuzannah posed elegantly on the bed as she pulled back the folds of her dress to reveal white suspenders attached to the black tops of her seamed nylon stockings. She knelt and lifted the dress around her waist to show her buttocks encased in a layer of tan, sheer nylon pantyhose and a pair of white panties.
Zuzannah stripped off the dress to reveal a white bra that matched her panties and a pretty suspender-belt around her waist, the thin suspender straps attached to her stockings. Sitting at the foot of the bed, she pushed her hand under the tops of her stockings and spread her fingers over her thigh covered in a layer of nylon pantyhose.
Zuzannah stripped off her bra, revealing her perfectly formed all natural breasts and posed topless in her suspenders, stockings and pantyhose. She stood by the bed and hooked her thumbs into the elastic waist of her panties, then stripped them down to her thighs to reveal her naked crotch encased in the nylon layer of her sheer pantyhose.