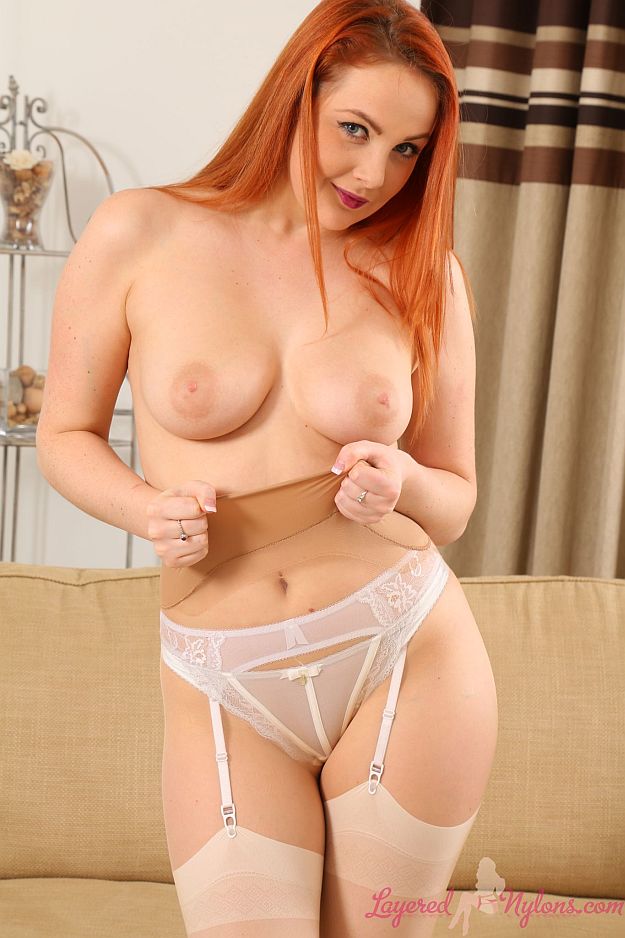 Kara Carter sat on the sofa and opened her legs so her dress stretched tight around her thighs, giving us a flash of her white panties and tops of her stockings under beige-tan, sheer nylon pantyhose.
Kara pulled up her skirt and caressed the cheeks of her fabulous ass through the sheer nylon hose, her taut white suspenders stretched over her thighs pulling on the tops of her creamy nylon stockings.
Kara pushed her breasts together through the sheer nylon fabric of her white vest that stretched over her naked bosom, then slipped the thin straps down her arms and the soft, pink nipples appeared over the edge of her stretchy top.
Kara stripped off her dress and removed her top to reveal  the soft mounds of her all natural breasts. Posing topless in her lingerie, she pulled her pantyhose up her front so the sheer nylon gusset stretched around the crotch of her white pantie thong. Then she pushed her arm deep inside her pantyhose and her hand moved under the stretchy nylon and over her buttocks and the soft flesh of her thighs.
Kara sat and slipped off her shoes, dangling them monetarily from her stockinged toes, giving a close-up view of her fingers massaging her pretty feet in their layers of nylon hosiery.