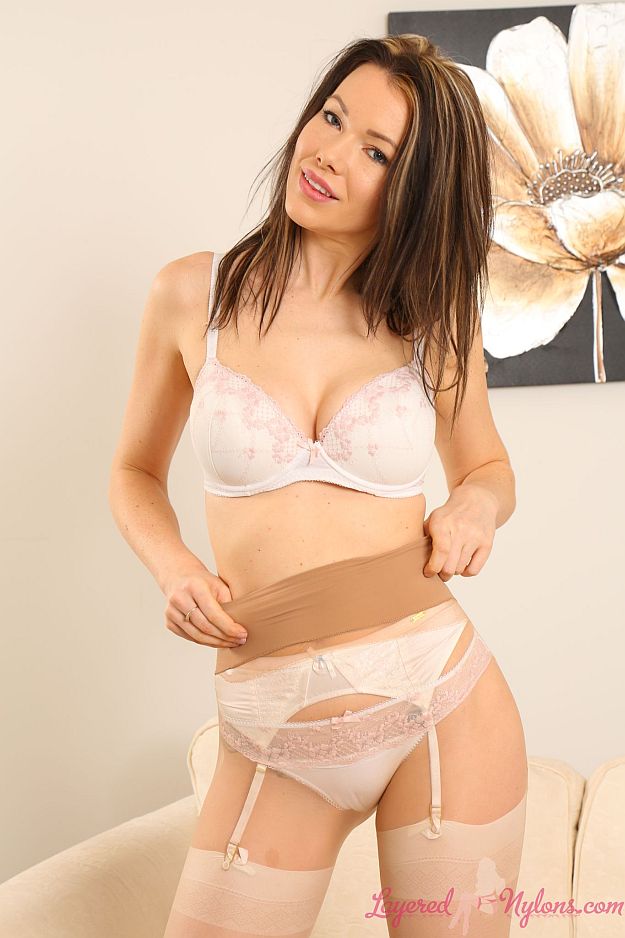 Nicky Phillips is a classy looking model, with beautiful brunette hair, a slender frame and long legs that look great in layers of nylon hosiery and heels.
Nicky sat and pulled the lightweight dress over her thighs, opening them slightly to give us a view of her white panties and cream colored stockings under her sheer nylon pantyhose. She reached down to to where her red open-toe heels were strapped around her ankles and drew her hands up her long, slender legs in their layers of nylon hosiery.
Nicky stood and pulled up her dress, revealing a white suspender-belt around her waist, then ran her hands over her ass cheeks encased in their layer of beige nylon. Her lace pantie thong slipped between the cleavage of her buttocks, around which her white suspenders stretched and strained on the tops of her cream colored stockings.
Nicky slipped off her dress and reached behind her back to unclasp her bra, stripping it away as she turned to reveal her all natural breasts. She reclined on the sofa and removed her heels, then stretched out her long legs to give a close-up view of her feet covered in their layers of soft nylon hosiery.