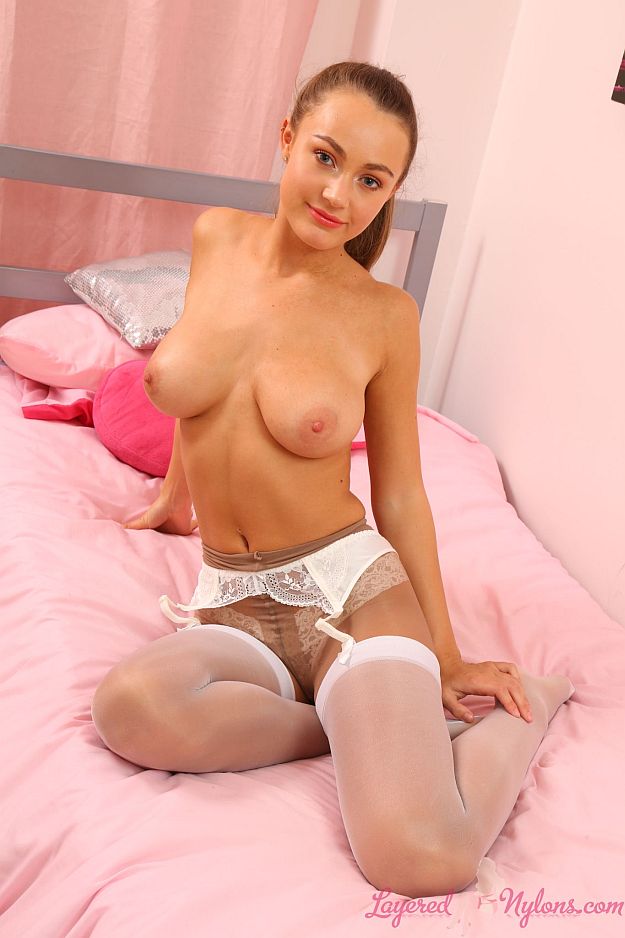 Pretty brunette Zofeya looks beautiful as she poses in her sheer white nylon and lace outfit, through which we can see her white lingerie suspender-belt and nylon stocking tops.
Zofeya unzips the back of the lace skirt and it slides down her legs, revealing the white suspender-belt; the straps attached to her stockings framing her gorgeous lace panties, under the layer of her beige nylon pantyhose.
Zofeya lifts her top, uncovering the white lace bra that supports her large breasts and gives us a view of her ample cleavage. She kneels on the bed and presents her ass, the white suspenders stretching around her curvaceous buttocks, encased in the tight nylon of her beige-tan hose.
Zofeya strips off her top and sits on the edge of the bed, extending her legs and dangling her heels from her nylon clad toes. She kicks off her heels and stands in her stockinged feet, slipping the straps of her bra over her shoulders and down her arms to fully expose her beautiful, all natural breasts.