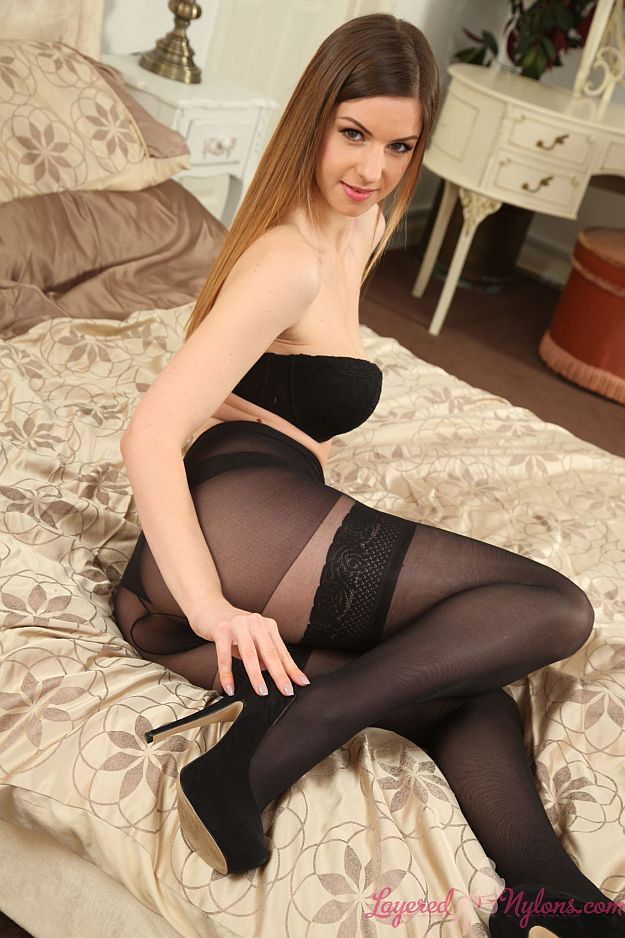 Top British glamour model Stella Cox returns to give us another striptease, looking so glamorous and as she poses in her tight fitting dress.
Stella kneels on the bed and lifts the hemline of her dress to give us a peek at her lace tops of her black nylon stockings. Then laying on her back, she swings up her legs, holding them close together and crossing her ankles to display her sexy, stiletto heels.
Stella stands and pulls the tight dress downwards, revealing her black, strapless balcony bra, then turns to show the black panties clinging to the curve of her perfect ass, under her sheer nylon pantyhose.
Sitting on the bed, Stella slips off her heels and lets them to dangle briefly from her toes, before taking them off and displaying her pretty feet in their nylon layers. Holding her hands over her bra, she pulls down the cups and exposes her fabulous, all natural breasts, which hang pendulous from her chest. She strips the bra away and leans forward so her boobs swing gently, pushing and lifting the soft flesh with the support of her forearm.
Stella gets up to stand in her stockinged feet and pose topless, pulling the waist of her pantyhose upward so the gusset is stretched around the crotch of her sexy panties.