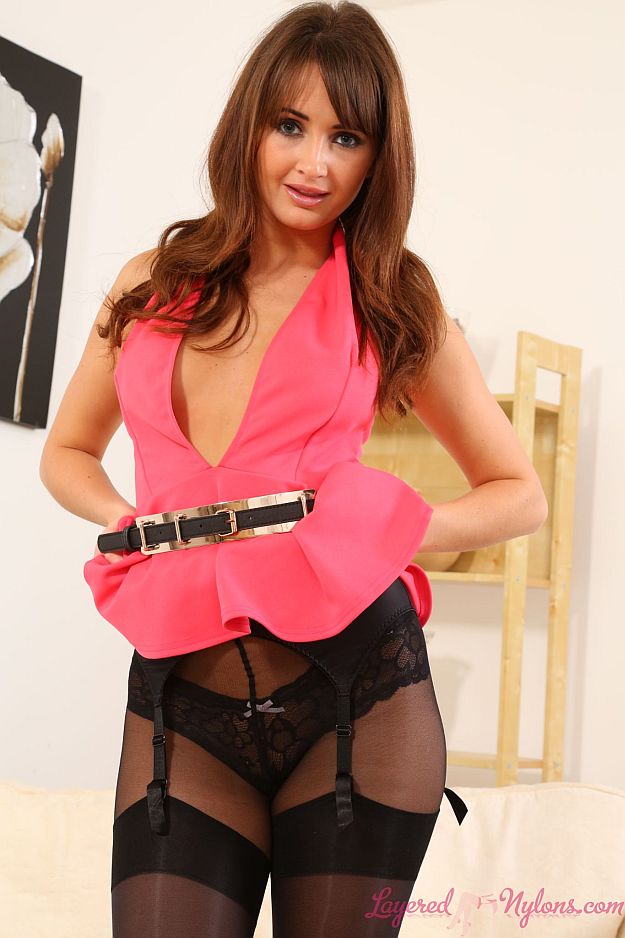 Gina looks sexy as she poses in a flamingo pink dress, open at the front and showing the soft flesh of her cleavage. Sitting on the sofa, she slides her hand between the layer of pantyhose around her thigh and the tops of her black nylon stockings.
She stands and lifts the the back of her dress, revealing a black suspender-belt; the tuat straps stretched around her buttocks, straining on her black stockings tops.
Gina reclines once more and lifts up her legs, holding them close together and extending them high to display her sexy, stiletto heels. Lowering her legs, she sits up and sliding her hand down to her ankles, she unbuckles her heels and slips them off her nylon clad feet.
Gina kneels and pulls open the front of her dress to expose her gorgeous all natural breasts, then undoes the shiny metallic belt around her waist to loosen her dress.
Standing in her stockinged feet, Gina lowers the dress and it slides down her legs to the floor. She turns and poses topless, the black suspender-belt attached to her stockings, framing the crotch of her sexy black panties.