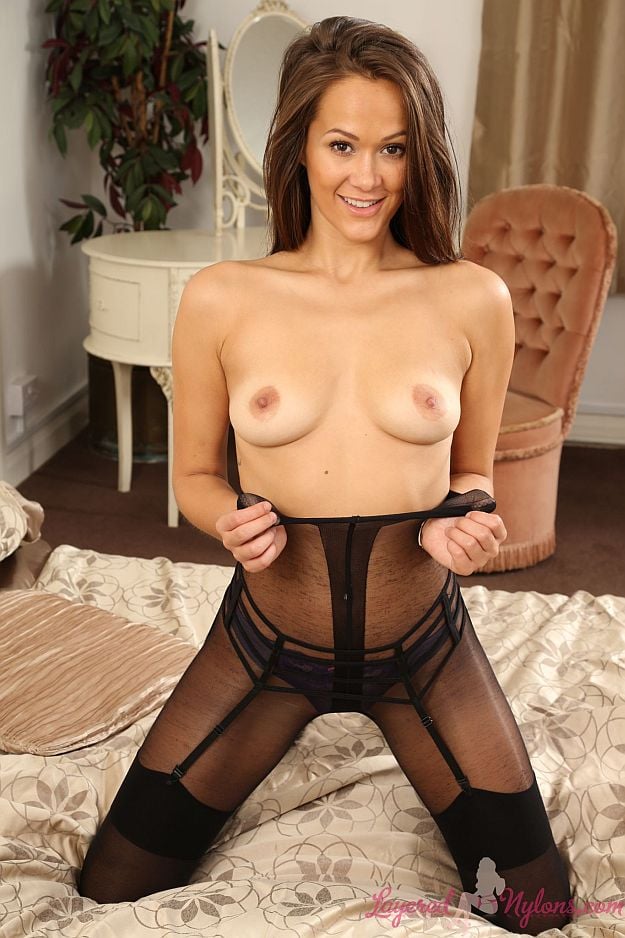 Felicity Hill looked gorgeous as she posed by the bed in her black, tight fitting dress, pulling it up and revealing black suspenders and stockings, layered over black nylon tights.
Felicity stripped off her dress and uncovered her purple bra, and the designer suspender-belt and suspenders attached to her stockings. She turned and posed, showing the suspenders framing the matching purple panties under her sheer nylon hose.
Felicity lay on the bed and lifted her legs vertically, crossed her ankles and displayed her feet in their shiny, black stiletto heels. She slipped off her heels and extended her legs across the bed, pointing her feet and toes inside their layers of black nylon hosiery.
Felicity stripped off the bra and knelt on the bed, pulling on the waist of her pantyhose so it stretched tight around the crotch of her panties.
Finally, she stood in her stockinged feet and pulled the waist of her hose up to her chest, displaying her all natural breasts as she posed in her layers of suspenders, panties and nylon hosiery.