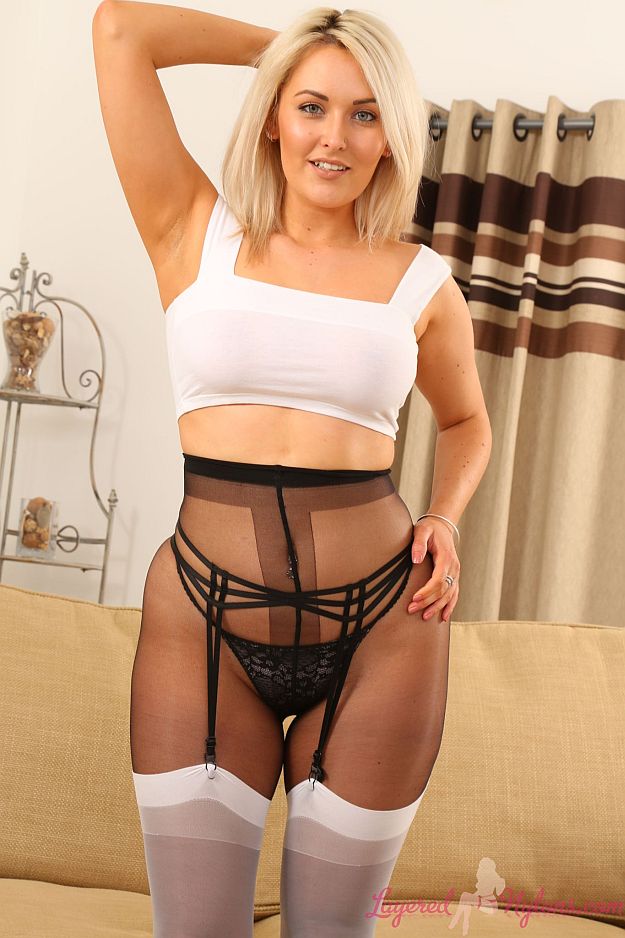 Beautiful blonde Zoe posed on the sofa sitting with one leg crossed in front of the other, her polka dot skirt pulled back over her thigh revealing a glimpse of white stocking tops.
Zoe knelt to give a rear view and lifted the skirt to show a layer of black nylon pantyhose covering her ass and thighs. The thin black straps of her suspenders stretched around the curve of her buttocks and pulled on the tops of her white nylon stockings.
Zoe slipped off her heels and lay on her back, lifting her legs to show her pretty feet and toes in nylon. She slipped her hand under the tops of her stockings and moved it under the stretchy nylon as she caressed her pantyhosed thigh.
Standing in her stockinged feet, Zoe unzipped the back of her skirt and it slid over her pantyhosed ass and down her legs. She turned to show her fabulous curved hips clad in nylon hose, and the designer suspender-belt and suspenders that framed the tiny lace thong between her shapely thighs.
Zoe pulled down the front of her top to give a teasing view of her cleavage, then stripped it off to uncover her all natural breasts. She knelt on the sofa and tilted up her ass to show off her fabulously rounded buttocks encased in sheer black nylon. Then she lay on her back and posed topless, pulling on her pantyhose so it stretched tight around the crotch of her lacy pantie thong.