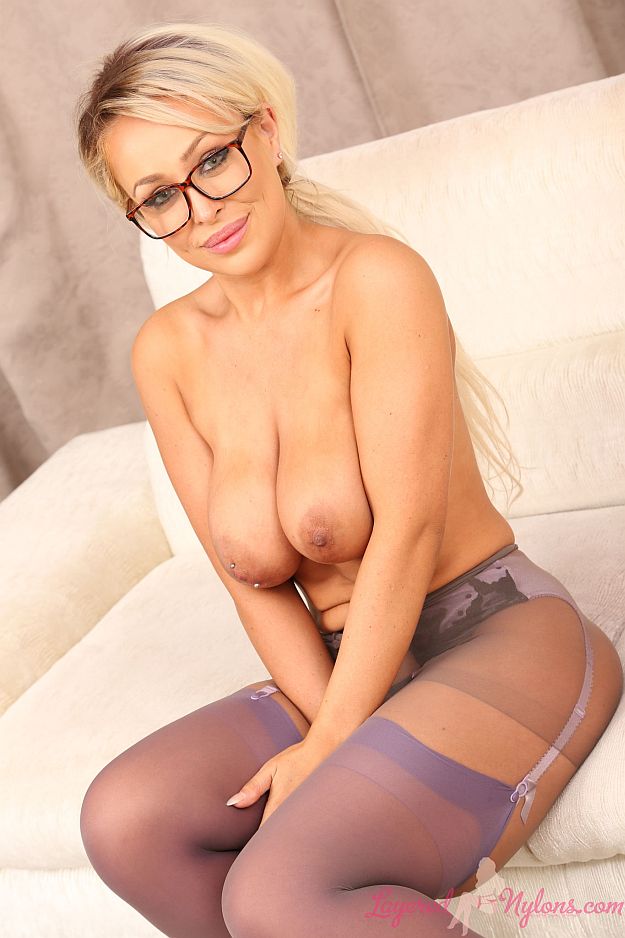 Fabulous blonde secretary Kaitlin Grey looked through the square framed glasses perched on her nose and parted her luscious lips as she posed in her tight-fitting shirt and leopard print pencil skirt that clung to her shapely ass and thighs.
Kaitlin caressed her breasts through black, semi-sheer shirt, under which her shapely bust looked so enticing. She slowly undid the shirt buttons and pulled open the front to give us a glimpse of her ample cleavage. She eased the shirt over her naked shoulders and down her arms, smiling as she teasingly concealed her breasts with her hands.
Kaitlin stripped off the shirt and exposed her torpedo shaped breasts, one of which had a nipple piercing, and turned to unzip the black of her skirt. She slowly eased the tight skirt over the curve of her ass, bending forward as it slipped down her stockinged legs to the floor.
She knelt on the sofa and sat back on her heels, and her satin suspender-belt stretched over the broad curve of her ass. Her pantie thong appeared as a tiny triangle of black lace on her lower back, which slipped between the hemispheres of her fabulous buttocks under the layer of her grey, nylon pantyhose.
Kaitlin stood in her heels and stretched the waist of her pantyhose around her hips, pulling the nylon tight around the crotch of her black lace pantie thong.