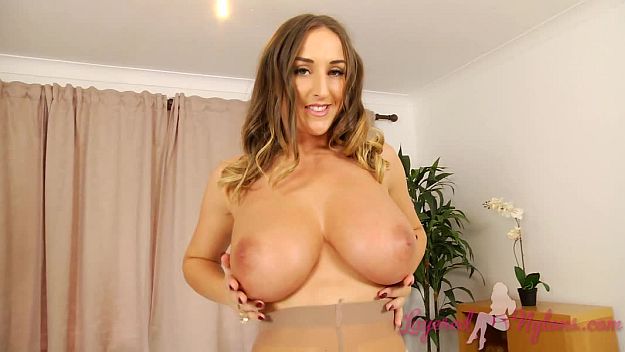 Sexy Stacy stood and posed in close-fitting polka dot dress that clung to her fabulous curves. Hands caressing the outlines of her figure, she bent slightly so the material stretched around her shapely ass.
Stacey sat and pulled down the front of the dress, stretching the material around her breasts to give a teasing view of her ample cleavage. She lifted her legs onto the sofa and pulled back the hem of the dress over her thighs to reveal beige coloured, lace top stockings under a layer of shiny nylon pantyhose.
Stacey pulled the dress above her waist, revealing the white suspender-belt and lacy panties under her sheer nylon hose. Bands of light shimmed across the surface of her shiny nylon tights as she lifted her legs and crossed her ankles. She ran her hands all over her extended legs and the white suspenders stretched around her thighs and pulled on her stocking tops.
Stacy knelt and pulled down the top of her dress and scooped the flesh of her huge breasts in her hands. She framed the sides of her massive boobs with her forearms and pushed them together, then  squeezed the soft mounds of her titties between her fingers.