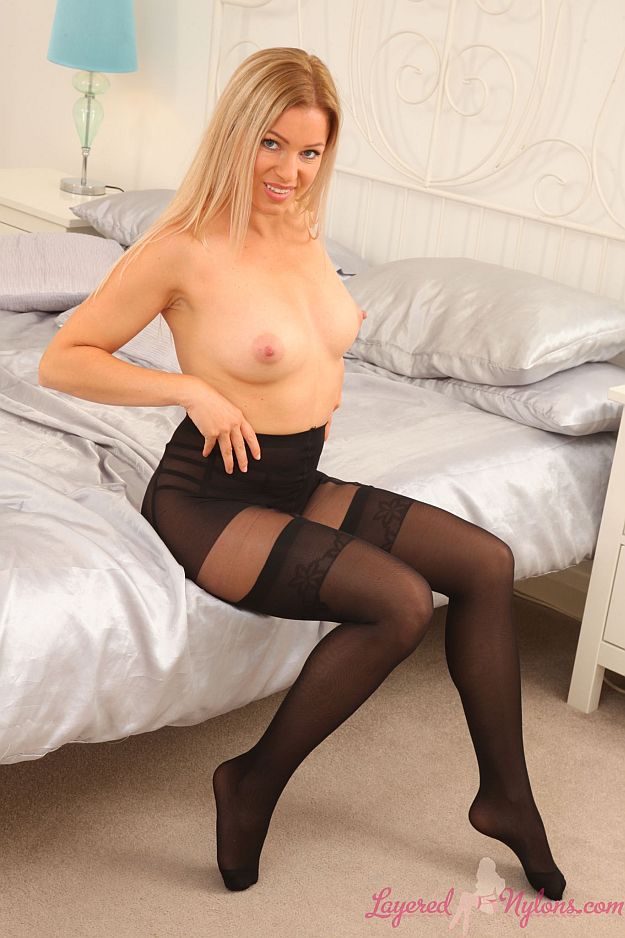 Blanca wore a tight fitting dress that showed off her curvaceous figure to great effect as she stood and posed at the start of this photo-session. She looked up at us with her beautiful blue eyes as she presented her tantalizing cleavage in the low plunge neckline at the front of the dress.
Blanca's long blond hair fell over her shoulders as she turned sideways on and smoothed the dress against the sensual feminine curves of her hips and thighs. Then she teased up the front of the dress, revealing black suspenders and stockings under the layer of her sheer nylon pantyhose.
Blanca knelt and pulled up the dress to show her fabulous ass sheathed in the black nylon of her hose and bound by the black suspenders attached to her stockings.
Stripping off the dress she uncovered her lovely all natural breasts and pink, puffy nipples standing erect. She posed topless, revealing she was sans panties under her sheer nylon tights, then pushed her hands inside her pantyhose and spread her fingers over the soft flesh of her shapely buttocks.
Laying back on the cool satin sheets, she slipped off her stiletto heels and lifted her legs high, giving a close up view of her pretty feet in their layers of nylon hosiery.