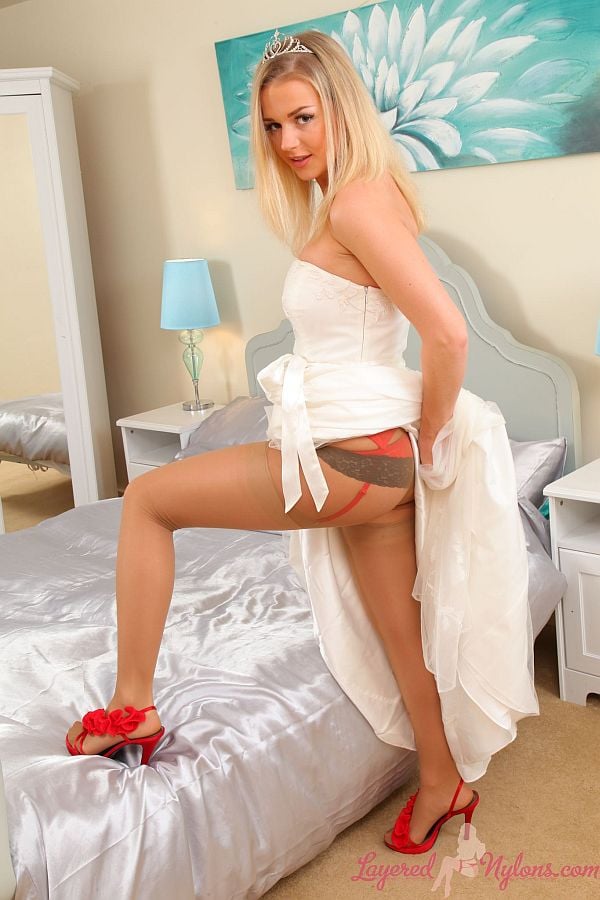 Victoria looked like a pretty princess in her tiara and bridal gown, swathed in layers of white gauze around her legs, that entice us to imagine what she's wearing underneath her flowing garment.
Victoria didn't let us wait too long to find out, as she slowly lifted up the folds of her dress to reveal she was wearing sheer nylon pantyhose, layered over red-black lacy panties, red-suspenders and tan stockings.
She unzipped the dress at the side and let it fall away to uncover her dazzlingly red bra, and turned to give a view her red suspenders stretching over the cheeks of her ass and pulling taut on the tops of her tan, nylon stockings.
Victoria reclined on the bed covered in silver satin sheets and slipped off her red heels, then lay back and lifted her legs, crossing them at the ankles to give us close up views of the soles of her feet in their layers of tan hosiery.
Releasing the catch at the back of her bra, she stripped it away to display her peachy breasts and their thick round nipples, as she posed topless in her layers of lingerie and sheer nylon hosiery.