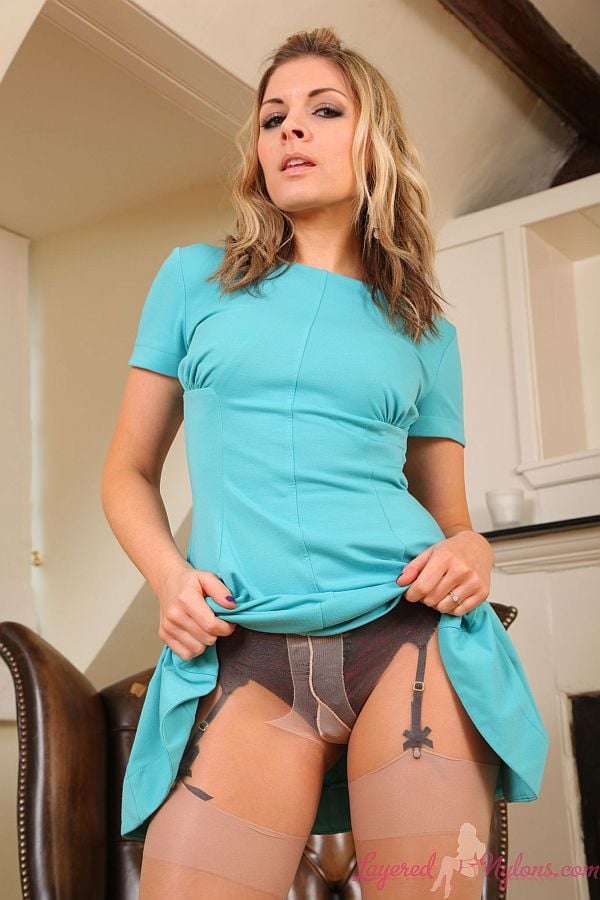 Naomi K looked so sexy as she lifted up the front of her turquoise dress to give us a flash of her beige, sheer nylon pantyhose, layered over her lacy suspender belt, red panties and tan stockings.
Stripping off her dress revealed she was wearing a red-black bra that matched her panties and her high-waist beige hose, which she playfully stretched and adjusted around her middle.
Turning, she looked back over her shoulder and a sexy smile curled at the edge of her mouth as she pushed her hands down the rear of her tights and carresed the soft flesh of her buttocks.
Naomi stripped away her bra and teasingly held her hands over her pert breasts, then removed her palms to fully reveal her pert tits and their hard nipples standing erect.
Slipping off her heels, Naomi reclined in the leather chair and lifted up her legs to flex her toes and displayed her feet in their cocoon of soft and silky, nylon hosiery.